Monday, July 28th, 2014
Weekend Roundup
I hate insomnia! However that was Saturday night, I'm pretty sure I slept Sunday night, but since I'm writing this Sunday before bed, I can't be sure

Friday I baked ALL day. In case you missed it on my FB pages, here's two out of three different kinds of cookies that I made.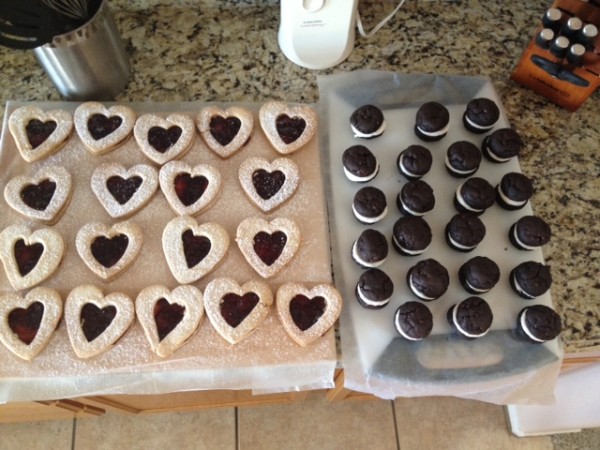 The Kahlua Chocolate Cookie Sandwiches are really good, but Special K (Oldest Son's wife) said they need more Kahlua so next time, I'll add more. I usually stick to the recipe the first time I make something  then adjust once I see how they taste. I totally trust Special K's opinion on all things Kahlua

The recipe link is here
My niece's wedding shower was a beautiful event. I was impressed! One of my sister-in-laws, and a friend of the family hosted the shower. They think of all the little touches that would never occur to me. Snowy white table clothes with lovely center pieces made of netting and flowers, along with parting gifts for the guests. At my house, I can handle food, drinks and dessert…beyond that I'm a little challenged.
The wedding is next month!
Sunday morning, BLB (youngest son) came by. We made breakfast then I told him I had to work. Two hours later I actually started working.  We just end up talking, then I look up and am like, "Oh crap where's the time gone!"
Back to work on the book! One way or another this book will go to my editor on August 11th.
How was your weekend?