Monday, August 18th, 2014
Weekend Roundup!
I had a great weekend! This is the first weekend I wasn't up at 5am working and stressing. I was having a little trouble relaxing but spending some quality time with Wizard and a margarita in the Jacuzzi on Saturday did the trick. Okay so the way this happened, I'm laying in the raft on the pool and I mused out loud, "You know I feel like having margarita." Wizard thought I was a freaking genius. So I trotted in the house and put everything in the blender.
Wizard was supervising. "Put in more tequila."
I frowned at him, all stern like. "Last time you wanted less." That was on my birthday
Wizard said, "The (adult!) kids were here then and they had to drive home later. Now it's just us and we're not going anywhere."
Ha! I know what he's doing. "You're trying to get me drunk and take advantage of me."
He laughed in my face. "As if I need to get you drunk."
Huh, I had no answer to that since he had a point. For the record, I didn't get drunk but I did relax

Then Sunday Biker Witch and I went to lunch at the mall–that was so much fun! I'm like a kid finally released from  time out–so happy to be free again for a while. We ate, and shopped and she bought me stuff (for my birthday and because I'm an awesome sister, LOL) life is good. We didn't get into too much trouble, although I did walk into a wall. We were heading into the woman's restroom, I turned to say something to her and slammed my shoulder into a wall. It's impressive the way I can multitask, don't you think? I'm perfectly fine, while she's probably still laughing, but whatever.
And since it was gently pointed out to me that I keep posting pics of Bailey Dog when I have two other grand puppies, here are some Cookie and Corky pics. I must have a hundred of them on my phone from text messages, but can I find them what I want them? Of course not! Anyway here's a few. Cookie is the super smart athletic one while Corky is a die hard fan of treats and naps.
Corky (left) and Cookie (right) go to work with CPA Boy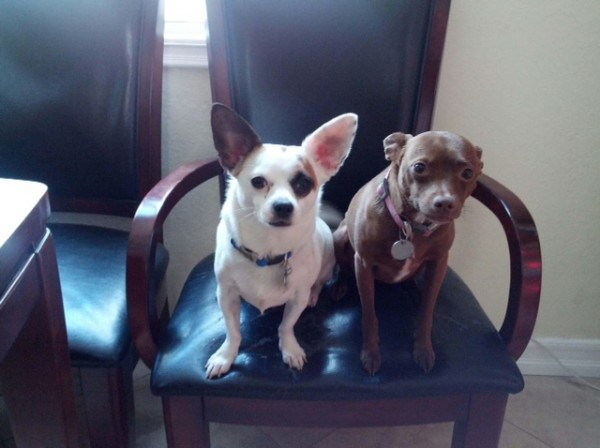 Cookie has a new sweater–she's really a gorgeous girl. You have to see her eyes in person–so pretty and intelligent. She's adores Special K since Special K rescued her as a  homeless, starving, underweight puppy. She's the energizer bunny when she plays too–she will run as long as she can get someone to throw a toy for her.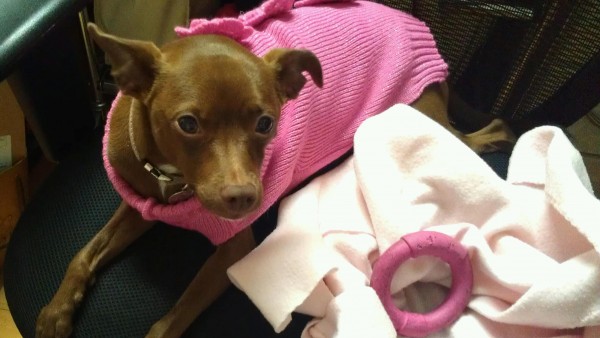 Corky–CPA boy texted me with this pic and said Corky's getting fat. CPA Boy is a big meanie. Corky is perfect. He's truly a sweetheart. If he wants his tummy rubbed, he's sit next to you on the couch and taps you with his paw. No one can resist him.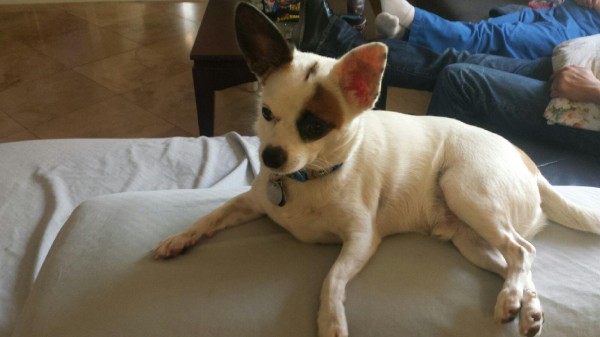 I have a new pic of Bailey too, but resisted posting it!
Okay your turn, how was your weekend?