Monday, September 22nd, 2014
Weekend Roundup
Pretty good weekend. I wish I was getting more done on Linc's book, but I need to set it aside to revise EXPOSING THE HEIRESS. That should be done in two weeks, then I'll go back to Linc. I'm looking forward to revising Hunt and Alyssa's book since it's probably one of the easiest revisions I've ever had

There's just one plot point I need to think of then I can dig in.
The most exciting part my weekend is this picture of "Cork Screw" otherwise known as Corky, that Special K sent me. This is how he spent his weekend.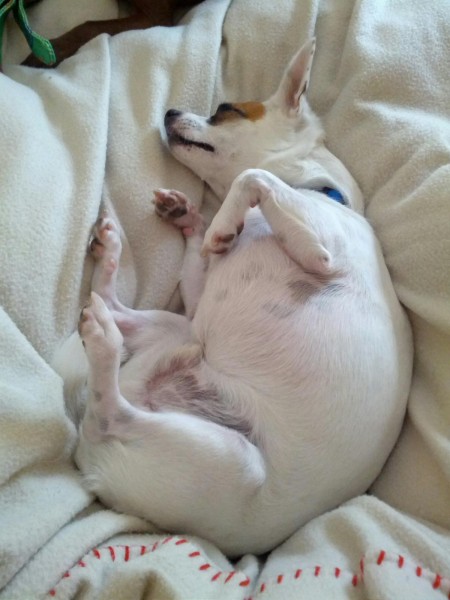 Wizard shook his head and said, "That dog doesn't know how good he has it."  Umm, it looks to me like he knows and takes full advantage!
I think Cork Screw is BLB's (youngest son) name for him, but then again, it could be Special K (oldest son's wife)–she's a wonderful combination of sweet and snark, so she's fully capable of coming up with a nickname like Cork Screw. She makes Wizard and I so proud, LOL!
Okay your turn–how was your weekend?