Monday, December 29th, 2014
Weekend Roundup
Hey guys! I've missed you all! Our holidays were great but nonstop and man, I'm ready to go back to writing today! So a quick recap: Christmas Eve we had Biker Witch (my sister) and her Biker Hubby out for dinner. That was totally kick back and fun. Then Christmas day we had two sons plus their girls out and Special K (my daughter-in-law) cooked dinner. And let me tell you, THIS is what I missed out on in having all sons! Special K made a delicious dinner of Chicken Pasta Marinara. I didn't have to do anything

And okay I know boys are capable of making dinner too

But it's amazing for us to have these special girls that our three sons have brought to our lives! Better than any material gift that's for sure.
Then Sunday we got to see Middle Son and his girlfriend, and she made carne asada fajitas. Awesome! We had a great time with them too.
Another awesome thing, we had Bailey for almost a week. He was good as gold, and we loved having him. The first three days we went for walks and he chased lizards and played, but then, his hips started bothering him. Bailey is getting older, and his hips can really hurt. Holy Heartstrings, that is hard to see–he looks at us with big sad eyes that beg us to make it stop. Middle Son told me what to do, so I got the meds for him and it helped. Also I went out and bought him a new bed (for our house, he has a kennel he loves at his house) so he could get more comfortable: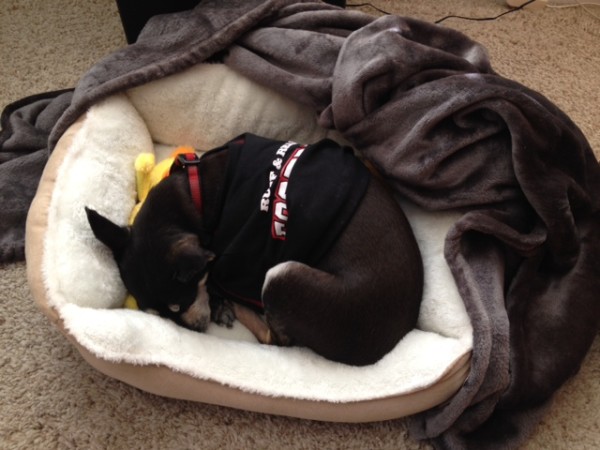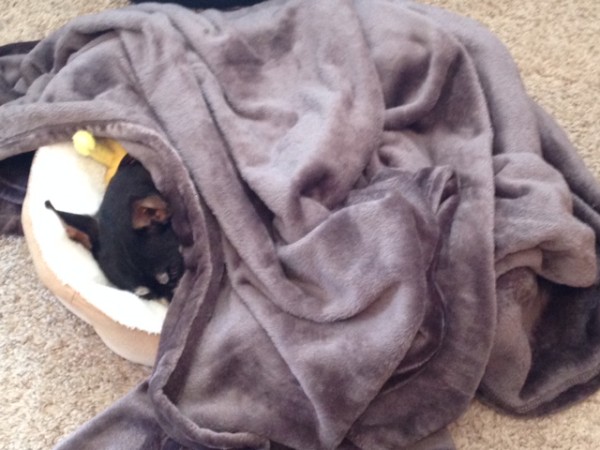 When Bailey wasn't with us, he slept in the bed until the meds kicked in and he felt better. Let me tell you, both Wizard and I were STRESSED over this, so worried about the dog who has given all of us so much love. Middle Son had told me this happened, and I could hear the worry in his voice when he talked about it, but seeing it firsthand is wrenching.  Bailey's feeling better now, and he'll be okay.
And when we took him home, Middle Son and his girlfriend were so calm and confident, helping Bailey while going out of their way not to make us feel bad. Middle son thinks the stairs in our house are aggravating Bailey's hips and said, "I'll order baby gates and have them sent to your house." And I thought, this man cares so much for his dog AND his parents. He doesn't want to deprive Bailey or us, we'll just work together to solve issues as Bailey ages and has more challenges.
Seriously, I hugged both Middle Son and his girlfriend. We all love Bailey and want what's best for him.
So over all our Christmas was good even though Bailey had a couple difficult days. He has a lot of people who love him and will work together to take care of him.
How was your holiday and weekend?