Monday, January 5th, 2015
Weekend Roundup
Wow a lot has happened! I'm going to put pics here you may have seen on my FB page–feel free to skip ahead.
Okay so first, we woke up New Year's Eve to snow: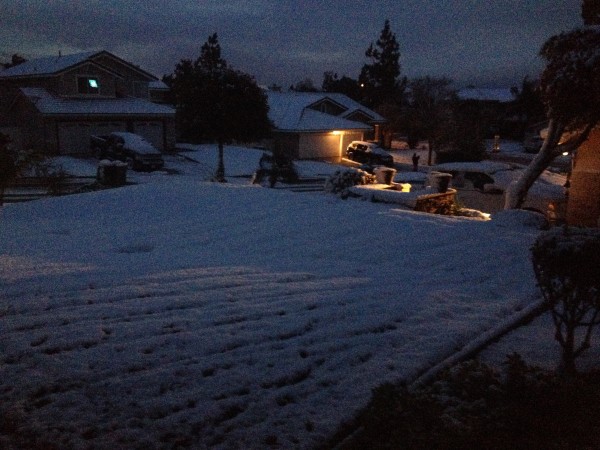 This is what it looked like about 6:30 am. Stunning as we don't get snow here–ever! So that was exciting and fun. We had a snow day! I had intended to work but we were having too much fun playing like children.
Then New Year's Day we left for our trip to Solvang. We met our three sons there, along with their girls (one wife and two girl friends). I put a family pic of my personal FB page you can probably see here  if you're interested. We all went on this wine tasting trip to celebrate BLB's (youngest son) graduation with his B.A. degree. The trip was a blast, and I owe a special thanks to Special K (CPA Boy's wife) for organizing it! And to all our sons and their amazing girls for making it work. These are memories we will treasure.
Even better, Bailey Dog joined us! This is him staying in our room while all the kids went to dinner (we were invited, I just wanted to stay in that night). He was showing off his brand new jacket that Middle Son's girlfriend got him: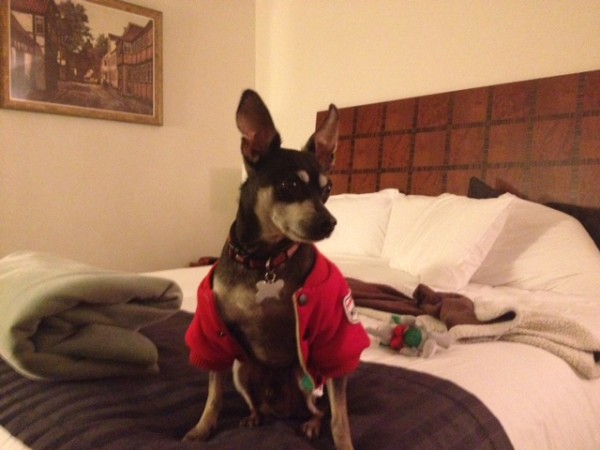 Wizard now calls him the "Red Cross" dog, LOL! Bailey was very good on the trip. We took him out for to explore the shops the last day, and stopped at one winery where they graciously allowed Bailey to come in, and we ate lunch on the patio of Cecco Risorante where they also happily allowed Bailey and brought him some water. We always ASK before bringing Bailey in anywhere.
Oh and I can't forget this special cat, Cleo, we met at another winery the day before that: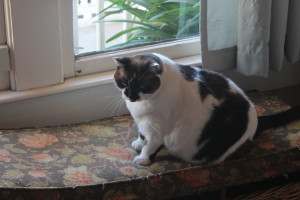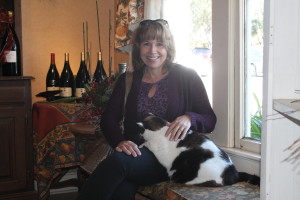 Cleo likes to greet all the customers, and was super friendly as you can see. When I sat down, he crawled up in my lap and cuddled. Don't tell Bailey though

It's our secret that I have a new friend.
Then Wizard and I went to Santa Barbara where we stayed another night to visit my brother and his lovely wife whom I haven't seen in years. We never intended for so much time to go by, but that's what happens in life if we don't try harder to stay in contact with the ones we love. It was wonderful to them! I wish I'd gotten pictures, but we were so busy visiting, it didn't occur to me at the time.
And then on the way home, we took the 101 home, and I can't remember where this was exactly but not too far out of Santa Barbara. It was tricky to snap this pic of the Pacific Ocean while going about 70 miles an hour. It was gorgeous!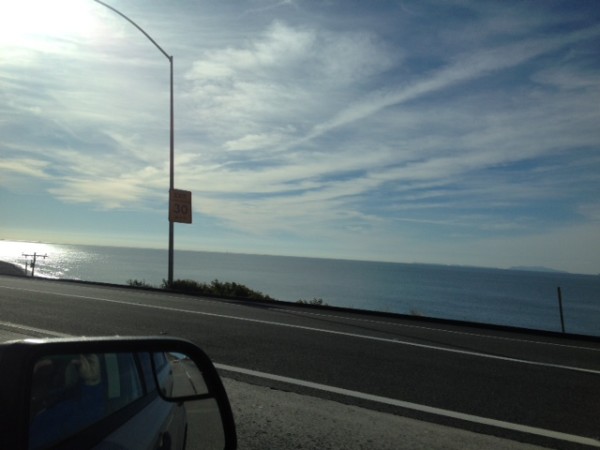 Compare that to the first pic of snow just a few days earlier, and you can see that Southern California can surprise us once in a while with a little variation in the weather

Now I'm so happy to be home, get back to my routine and work on Linc's book, CAGED MAGIC! I'm hoping I can write straight through to the end without another interruptions. This poor book has been shuffled aside too many times.
So how was your New Years and weekend?