Monday, April 20th, 2015
Weekend Roundup
Holy Water Leaks, this was so not how I thought my weekend would go. So Friday night, I was cleaning the stove after dinner, and noticed a water stain on my stove top.
Then I felt a drop on my hand.
I looked up and saw water dripping down the microwave. I found more drips, and looked right to the wall where I saw the ripples in the paint. Not. Good. I knew we had a leak.
So my kitchen  looked like this a couple years ago when we updated with granite and new sink and faucet: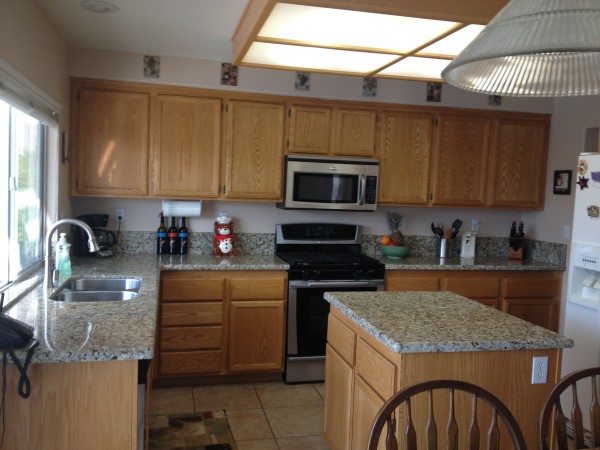 While there's more updates we'd like to do someday (like lighting and a new fridge) I love my kitchen, it's my happy place. But it wasn't very happy this weekend. See that header above the upper cupboards with the row of six pictures? There was a water leak somewhere behind that.  The restoration crew had to come in Saturday and strip out the cupboards and microwave, cut holes and find the leak. Once they did that, the plumbers fixed it.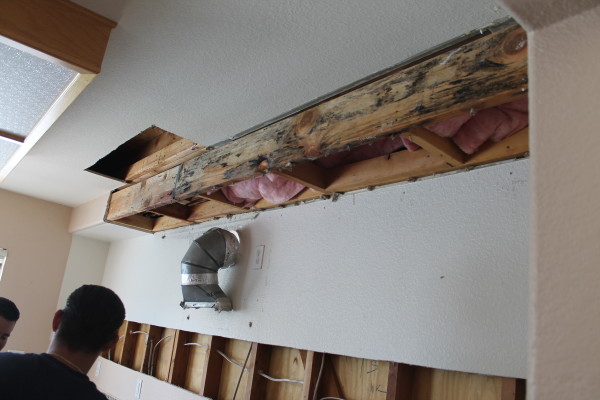 No mold and no lasting damage, so Yay for that! We caught the leak when it was a slow drip before the pipe burst and became a true disaster (pure luck). The next step is 48 hours of a jet plane in my house: Just kidding, these are the driers/blowers/dehumidifier things that only sound like jet planes. But they are making sure everything is absolutely dry so it's all good.
It'll take about a week to get back to normal. So far, everyone we've worked with on this, from our insurance to the contractors, have been awesome and reduced our stress. Thankfully this didn't happen last week when I was recovering from surgery or a couple weeks ago when Wizard was recovery. And Wizard is retired so having him around really helps too.
Sadly, we didn't get to see CPA boy for his birthday but he understood (obviously) and we'll reschedule for next weekend. I'm also rescheduling a dress shopping/lunch date with my friend because friends always understand that life throws us curve balls.
That said, I'm pretty much exhausted with all this. And I still have to fix my tooth (once it's healed and it's healing "perfectly" according to the oral surgeon) plus deal with what appears to be a cyst in my ankle according the the orthopedic doctor.  Also Wizard is having an ongoing issue with his foot too. None of this is serious, just sort of stacking up to the point of being really tired.  All I want to do is write, but life doesn't always work that way.
However, I will get CAGED MAGIC done and back to the editor as soon as I can. And one thing that thrilled me is that the copy editor for EXPOSING THE HEIRESS contacted me to tell me she enjoyed working on the book, and  "I was completely hooked the whole way through and there were times the suspense was so intense that I actually forgot to breathe." I've never had a publisher copy editor do that before, so I am wildly happy about it.
So how was your weekend? I really want to know guys!