Friday, June 12th, 2015
Happy Friday!
TGIF!!
So yesterday I took my Rita Dress in to be hemmed. I tried this new place with a German Grandmotherly type of seamstress recommended to me by a friend. This lady knew WAY more about my dress than me. That was a very good sign, especially since I'm fashion challenged, and also, I can't sew.
I tried on the dress and she began pinning it up. "These mermaid dresses are usually a couple inches off the ground."
Oh cool, I have a mermaid dress. Wait…I need to focus on the length of the dress. "Umm, I want it longer."
"Yeah? Okay but you need the the overskirt an inch off the ground to walk.  The underskirt will be shorter.
Oh come on, walking is totally overrated. Right? "I wanted it to skim the ground."
"I show you." She pins up the underskirt two inches. "This shows your shoes, and the overskirt (which is sheer) will be longer. Turn and look in mirror."
Hmm. I look in the mirror and what I'm thinking comes right out my mouth. "I think I want it longer. Cuz, you know, I'm short."
Grandma Seamstress sits back on her heels and gives me a stern look. "You think the dress dragging on the ground will make you look taller?"
Umm….Yes? But judging by her dubious tone, I'm guessing that was wrong.  At that point, I'm pretty sure I looked like this: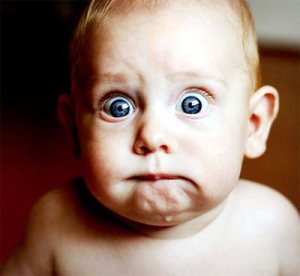 So I said, "I think I'll just trust you."
She nodded, re-pinned the underskirt a little longer and then got to work on the overskirt. And dang, what she showed me when she was finished looked pretty good, and much safer. Although I still looked a little like an overstuffed mermaid, but skinny is not in the cards for me right now.
I really liked the seamstress by the way. She really did ask me if I thought the dress dragging would make me look taller (and hearing someone say it out loud showed me exactly how stupid that is!), but she was super helpful, nice and clearly knew her stuff. And she loved my shoes, said they worked perfectly with the dress. Which is pretty funny since I got the shoes on a killer sale for around $30.00

And those I can wear again over and over. The dress…well if you see a women hanging out at Starbucks in a mermaid dress — just know I'm trying to get my money's worth. That's not crazy, right?
This weekend, Wizard and I have a wedding. Otherwise, I'm mostly gathering up promo stuff and working on the behind the scenes stuff but nothing terribly stressful since my awesome team is totally on task for me and that's helping me out a lot. By the way, when I say team, I mean people like my assistant Anna, my editor, my formatter, the graphic designer from Sweet 'N Spicy Designs who just did an awesome title page logo for me, my proofreader, my cover designer — all of them help me in huge ways that make everything go smoother. I can't express how much I value them. And Wizard! He's pitched in so much over the last months so I could get both these books done.
What are your plans this weekend?