Monday, July 20th, 2015
And They're Back!
The Wing Slayer Hunters are back! It's here, release day for CAGED MAGIC! Assuming all the vendors released the book as promised, it should be live!
Linc Dillinger is one of those unexpected characters who walked into my mind at the beginning of the second book in the series, SOUL MAGIC, and refused to leave until he found and saved his witch. Nothing deterred him: Not when the original publisher dropping the series, not when the second publisher wanted the series but we couldn't come to terms that worked for both of us, and not even when my youngest son was seriously injured and my life came to a screeching halt.
In the case of that last one — Linc totally approved by the way. He's all about moms putting their kids first. Believe me on that.
But then, my oh-so-patient Linc got tired of waiting and he haunted me relentlessly, saddling me with an ugly case of insomnia until I wrote the book. I had to…or Linc was never ever going to leave me alone.
So yesterday, I asked Linc, "Dude are you nervous? I am, I want readers to love you."
He shook his head. "You don't get it, do you, Lyon?"
"What?"
"It wasn't about that for me. It was about her, about Risa. She's the reason I breathe."
Well okay then. So the Magic is back and I hope you enjoy the book that Linc was absolutely determined to make happen.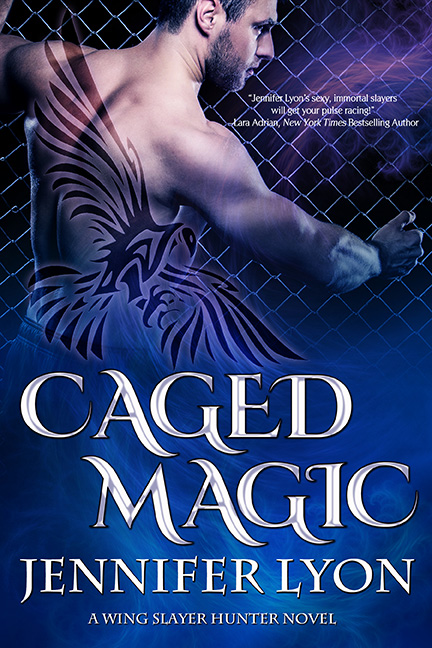 Kindle / Amazon Print /  iBooks / B&N Nook / Google Play / Kobo
And if you want to follow the CAGED MAGIC BLOG TOUR (grand prize a $50.00 gift card, and two runner up prizes of $25.00 gift cards), you can click here or if the pretty little giveaway widget below works, click there. (Widgets sometimes work for me, other times they just laugh in my face and refuse to work).
So I'm boarding a plane obnoxiously early Wednesday morning for New York and I'm not sure exactly when I'll post to the blog again, but I'll try! I would like to mention that I am honored to have HER TEMPORARY HERO nominated for two award. First is the National Readers Choice Award give by the Oklahoma Chapter of RWA. This is a special award that is well-known and highly valued in author-circles because it really is about the readers. The second award is the RITA Award, a very prestigious award given out by Romance Writers of America. To be nominated for that takes my breath away.  It doesn't matter if I win, just the nominations are cherished moments in my career.
But in my day-to-day life it's all of you that I value. You guys are the reason that I keep writing, and hanging out here on the blog brings a smile to my face.
So how was your weekend?