Wednesday, August 19th, 2015
Wednesday Worthy
I've been trying to write blurbs for the Wing Slayer Hunter books and, wow, I suck at it. But I finally got the Blood Magic one finalized and sent that book off to the formatter.
<Wizard shouts> "BECAUSE I TOLD HER TO QUIT AGONIZING! THE WITCH GETS CRAZY-OBSESSED!"
Sigh. Ignore Wizard. Right now, he's a tad impatient because he wants his chocolate covered graham crackers.  I just ran down to Starbucks and bought us each an individual package of these luscious chocolate covered graham crackers, then I showed Wizard and told him he had to wait until I was finished writing and setting up this blog to post before he can eat his.
Why?
Because I can…mwahahahaha!!!
Anyway, I have gotten off the subject. Um…okay so the good news is the Wing Slayer Hunter books are in various stages of production and if all goes according to plan, Blood Magic will release on October 5th, the remaining three (Soul Magic, Night Magic and Sinful Magic) will come out in two-week intervals after that.  The pre-order for Blood Magic should be up in a week or two. I'm more excited that I thought I would be.
But the blurbs…ugh! These are so hard to write.
Okay enough of that.
"YOU THINK?" <Wizard shouts again.> "YOU WROTE THE BOOKS FASTER THAN THE BLURBS!"
Hmm, I guess someone doesn't want chocolate covered graham crackers. Oh hear that? Silence. Wizard is quiet now, LOL! Anyway, let's talk about candidates for Wednesday Worthy. I was trolling for hunks, and came across this picture for the Magic Mike Musical from back in 2013.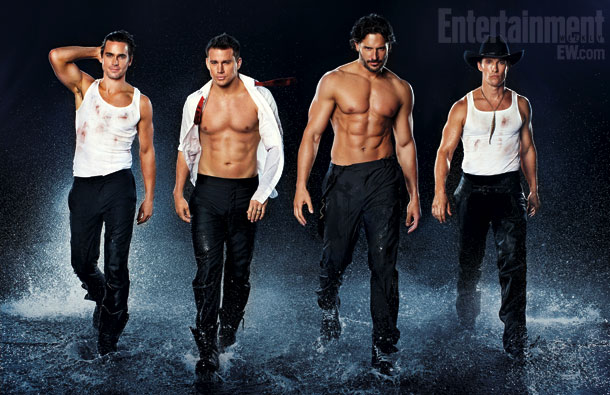 Picture is from http://channingtatumunwrapped.com/2013/07/channing-tatums-magic-mike-the-musical-is-coming-to-broadway/
I guess the second one is Channing Tatum? I don't know, I'm not really into him all that much. But who is that third guy from the left? He looks like Joe M, I'll take him! I like the guy on the far left too.
So what about you?  Do you find any of these candidates worthy?