Monday, August 17th, 2015
Weekend Roundup & Tools to Increase Sales
I had a good weekend, a lot of working, particularly on a marketing plan for the re-release of the Wing Slayer Hunter books this fall.  I have all the covers now — very hot

I think I'll be doing a cover reveal in my newsletter so be sure you are signed up for my newsletter.
In additional to all that I listened to a video by HM Ward (New York Times and USA Today Bestselling Indie Author who has sold millions of copies of her books) on How To Sell a Bazillion Books. Here's her tweet promoting it so you know I got this from a legitimate place to share it: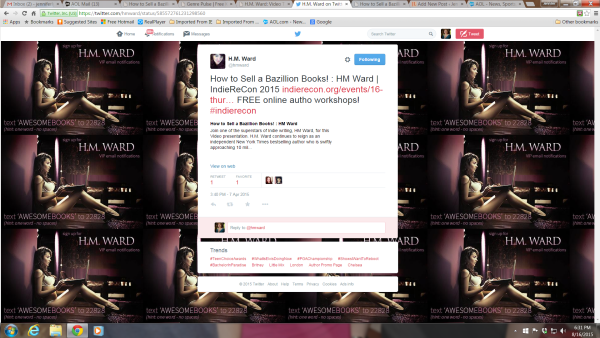 You can link here to listen yourself. But I'm going to recap and discuss her tools to increase sales. First, she's outsold me and done extremely well. Listen to her! That said, I've learned a few things I'd like to add from my own experience (selling what I believe is well over 200,000 across all vendors on self published/Indie books, a heck of a lot more if we add in my traditionally published books).
HM Ward discussed her Golden Trifecta. After you write the book, you need three things to sell it: Cover, Blurb and Sample. These are, HM Ward says, her Golden Trifecta.
The Cover is the Visual Summary. This needs to show the reader the genre and tone of the book at a glance. It should grab them very quick. She made an interesting point that often new, innovative covers don't work. Readers are looking for familiar. I believe that is true. We have a very short time to grab attention, so readers need to easily recognize what they are seeing and be visually hooked.
Next is Blurb. This is the short description of the book, traditionally found on the back cover of a paperback book, and these days found everywhere to give the reader a taste of what the book is about. This is NOT a full summary. It should be a Tease and a Hook. I agree with that! So easy to say, and so painfully hard to do. I've been writing and rewriting the blurb for Blood Magic —  a book I could practically recite in my sleep, but getting that hook and tease into about 150 works is killing me. But it's critical to do it right. HM Ward pointed out that readers often skim the blurb, searching for tropes. Tropes are another word for emotional hooks like: Secret Baby, Second chance at love, Friends to Lovers, Blackmail, Enemies to Lovers, Boss and Secretary, Billionaires Bad Boys… all those emotional hooks that grab our attention. Get those tropes into your Hook and Tease Blurb.
And the last thing is the Sample. Now we're mostly talking about electronic readers where they customer can download a sample — approximately 10 to 15 percent of the book for free to sample and decide if they want to buy the book. The cover and the blurb's job, in HM Ward's video, should lead the reader to download the sample. And the sample should be the final hook that leaves them wanting…and they'll not only buy your book but read it. (How many unread books do we have on our e-readers? I have quite a few). For a sample to do that, she said they must have three things: Conflict, action and empty. My example of that is my book, Her Temporary Hero. The heroine Becky finds out her ex not only got out of prison early, but he's going to try to get custody of their child — the child that he didn't want. Becky is terrified. That scene has conflict (she must protect her child, but how?), action (she's scared and trying to get away from her ex who has hurt her in the past) and empathy (Becky's a young, very poor mom who clearly loves her baby and is willing to do anything to protect her.) The combination of action, conflict and empathy should hook the read into needing to know what will happen and buying the book.
That's my summary of HM Ward's Golden Trifecta and she has a lot more interesting points. I encourage you to listen to her video, again you can link here.
Now my point. For HM Ward, she believes hitting  on the right cover, blurb and sample sell the books. My point is this: Your Cover, Blurb and Sample better deliver. I don't mean it better to be good in the literary sense, first off that's incredibly subjective and second, most of us that are commercial authors, so our standard is different. No, what I mean is the book had better deliver the emotional punch promised in the Golden Trifecta. If you disappoint readers, they will forget our book and NOT talk about it. Talking about a book is the most powerful way to promote it and build sales momentum. To deliver an emotional punch usually comes down tropes (along with internal conflict but that's too much to cover now). I know 50 Shades of Grey has its detractors (Understatement!) but the truth is, that book had a compelling hook that delivered on emotion for a large segment of the population. Will Anna stay with Christian as she learns what he really is, or will she leave? That question kept a lot of people hooked. Millions in fact. It's a play on the old bad boy good girl and fish out of water tropes. Even the people who were angry about that book, made enough noise to generate more sales. The reaction wasn't flat, it was loud and wild and shot that book to the top of lists.
In summary, HM Ward's Golden Trifecta is Cover, Blurb and Sample.
My Golden Rule is deliver the emotional punch you promise readers in the Cover, Blurb and Summary.  Or phrased another way, Don't Pull Your Emotional Punch!
Okay I'm done rambling. Did you all have a good weekend?