Monday, September 7th, 2015
Weekend Roundup!
For all U.S. friends HAPPY LABOR DAY!! Hope you get a day of rest and fun!
So yesterday I was working. No really, Wizard was off doing guy stuff, and I had the house to myself. I finished the edits on Sinful Magic and got it all ready for the formatter. All I needed to do was get the blurb for that book in shape.
Then this beautiful girl came out.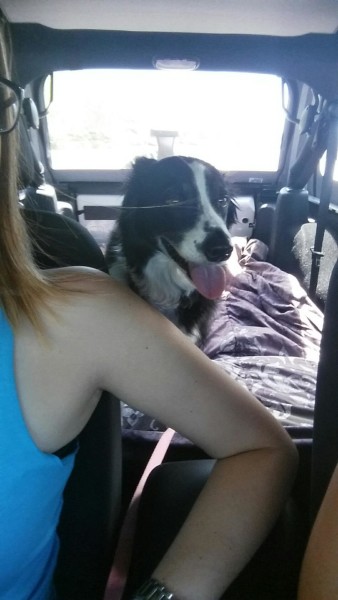 This is Roxy. She's the dog. The blue shirt and arm belong to Youngest Son's girlfriend, who is also beautiful. This was Roxy's first time in Youngest Son's prized Jeep

Once they came over, I dropped work instantly because I adore Roxy (and I adore Youngest son and his girlfriend beyond words).
But Oh Roxy…such a smart girl! She's the type of dog that looks at you as you're talking, and it FEELs like she understands every word.  We played, Roxy showed me her tricks and then she relaxed while Youngest, Girlfriend and I chatted. Roxy was such a pleasure to have over for a few hours. Exactly the break I needed.
Today I'll finish the blurb and send off Sinful Magic to the formatter. Blood Magic is up for pre-order right now for 99¢, and Soul Magic, Night Magic and Sinful Magic will be up soon at $2.99 each. If you'd like to pre-order Blood Magic, here are the links:
Kindle / Nook / iTunes / Kobo / Google Play
So how was your weekend? Are you off today? Any special plans?