Monday, November 16th, 2015
Weekend Roundup
SINFUL MAGIC IS HERE!! It released today!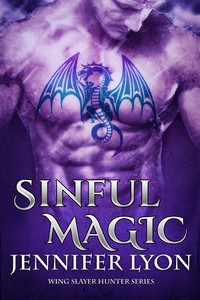 Kindle / Nook / iBooks / Kobo / Google Play
However, our weekend was not great, and Sinful Magic slid to the back burner. First came the horrific attacks on France. Both Wizard and I were sickened by it, and our thoughts have been with the French people.
Then Friday night, Wizard grew ill. It happened fairly quick.  Saturday morning, the situation became acute and I took him to emergency, Saturday night he was admitted to the hospital, Sunday he underwent a procedure to determine how seriously ill he is. Fortunately, the results came back as a treatable condition and he will be okay. We were so incredibly relieved. We had a very scary wait but are grateful that it looks like he'll be okay. I brought him home last night and he'll be resting and doing followup this week.
I was barely home or online all weekend, so I haven't promoted SINFUL MAGIC,  but it's okay. Right now, I am incredibly grateful just to have Wizard. While I'm pleased to share the Wing Slayer Hunters with the world,  Wizard is my world. It was hard to think of anything else except our kids (who were there or in constant contact) and Wizard's family. Besides, readers and fans have been doing a wonderful job helping to get the word out, which I appreciate even more now.
This week I might be a little scarce around the internet, but everything is okay.
So how was your weekend?