Monday, November 30th, 2015
Weekend Roundup!
I missed you all! So Thanksgiving…does anyone remember Wizard teasing me because I bought a new toy for Bailey Dog since we were going over to Bailey's house for Thanksgiving?
Well guess who gave Bailey the toy before I had a chance? WIZARD!! He was so proud too and Bailey though he was the best thing since dog treats.
Sneaky Wizard, LOLOL!! Bailey loved his Abominable Snow Monster squeaky toy.
Thanksgiving was small and so nice this year. There are some pictures here on my FB page, but I didn't take many. I  just had my phone out briefly to show my new iPhone cover then I put it away and concentrated on family and fun. By the way, the cover looks like this: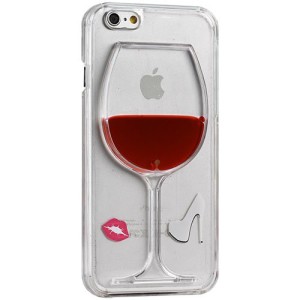 The "wine" in the glass is liquid and moves, it's pretty cool

Overall, it's been a good long weekend. But…OMG this book. So I always have this conversation with myself:
Me talking so Myself: Our next book is going to be EASY. We're going to make it simple and short.
And Self doesn't say anything until about 1:53am.  "Hmm, but I have this idea…and tells me all about it.
Me, "That sounds complicated. And impossible."
Self, "But awesome, right?"
"No!" Me snaps. "I'm not getting sucked into your trap. SIMPLE!!" EXcept for the rest of the night I'm thinking about this complicated idea. And the more sleep deprived I am, the more gullible I am.
Self says, "But you have the experience now, you can totally pull this off."
Me, "I don't know…"
And guess what? Sneaky Self convinces me I MUST WRITE THIS BOOK! Then I try…and OMG it's hard. So hard. And it's not working, except I love it so much I will make it work. Eventually. But it's painfully slow as I keep struggling with the first 100 or so pages and driving me crazy. And yet, I love it even more so I can't abandon it.
But right about now, as the holidays are pressing down, people are begging me for the next Wing Slayer book, all I can think is why didn't I just stick to my plan to write a simple book????
Okay your turn, how was your Thanksgiving and your weekend?