Monday, December 28th, 2015
Weekend Roundup
In all the holiday craziness, I only took one picture.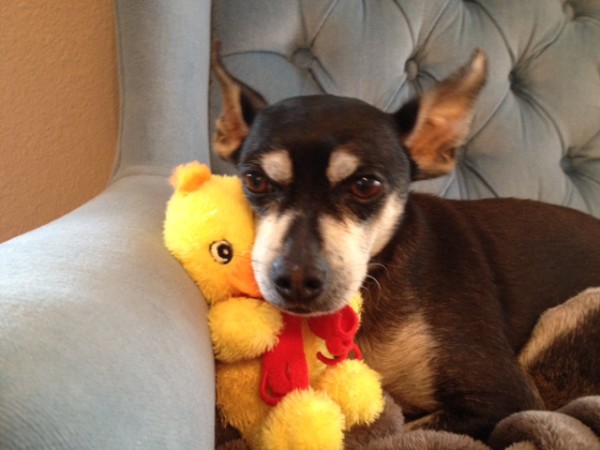 Of course it's Bailey dog.  Here he is with the toy Santa brought him for Christmas. Bailey is ridiculously easy to please, one $4.00 squeaky toy totally made his day. He carried it everywhere. In this picture, he'd been sleeping and I woke him up to take the shot. The look on his face is the ultimate patience of a dog putting up with humans and their weirdness.
All in all, Christmas was great. The dinner I cooked that night…not so much. Basically we ended up dining on soggy tamales with too spicy filling and the spanish rice came out in a soggy clump. However Biker Witch (my sister) saved the meal by bringing two awesome pies. She managed to find the elusive boysenberry pie and a lemon cheesecake. We ate a lot of pie, LOL!
Wizard and I also went to see the movie SISTERS. We thought it was pretty funny, and one scene in there had us laughing so hard we couldn't breathe. If you haven't seen it, I don't want to ruin it.
This week I need to work but I also am getting ready for a vacation. My writing has taken a back seat to the holidays, family and a million things. Yesterday Wizard was gone and I thought I'd have the whole day–then Youngest Son (BLB) came by and I ended up talking to him forever.
However I worked last night so that's something! Everything got so off track after wizard got sick, it's frustrating beyond words. But all that said, I'm looking forward to 2016 and launching this new series, plus Ethan's book in the 2001 Dark Nights collection and I'm sincerely hoping I can writing Eli's book for the Wing Slayer Hunters.
How was your Christmas and weekend?