Friday, January 8th, 2016
I'm Back & Happy Friday!
Hi all! I missed you guys! Happy 2016! I hope everyone's year is off to a great start!
So first, our vacation. It was good, but it got off to a bit of a rocky start. The plan was for all of us; me and Wizard, the three boys and their significant others to all to up to Paso Robles. Six of us stayed in a rented house, and two+Bailey in a dog friendly hotel. One of us had a stomach flu a couple days beforehand, one back problems and another a sick dog (not Bailey) and couldn't come up until a day later. But we all got there eventually and had a great time!  We discovered several wineries, and got to tour a wine cave which was really incredible.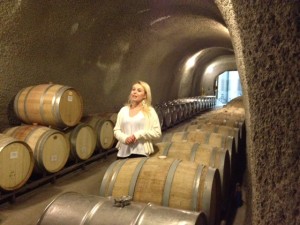 I learned a lot about the process and passion that goes into wine making. They have private tasting room down there that was gorgeous but there were too many people in my way to get a picture. Plus two of my sons were bugging me

Seriously they wouldn't shut up, and kept making me laugh.  FYI, one morning my oldest son showed me a totally inappropriate joke on FB to see if I would blush. I may have obliged him

My kids are evil. And I know where they get it from. In this next picture you'll see me laughing with Wizard. This is the real me with him — I can't even remember what he said to me, but it was likely very inappropriate. Or he was making fun of my hair.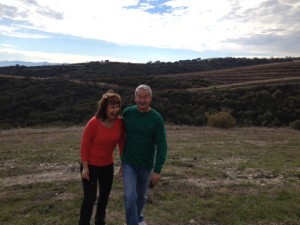 The above picture is Calcarious Winery, and it's absolutely stunning up there. So pretty it took my breath away. There's a long winding, mountain-like road to get up and down, and that's where we met this guy: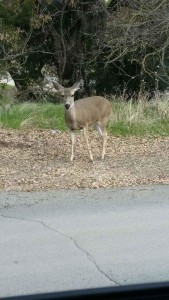 Wizard and I then headed to Solvang. We planned to spend two nights there, doing a bit more wine tasting, and just hang out and walk around. But the weather was cold and wet, with a huge (for Southern CA ) storm in the forecast. We decided to cut our losses and head home the next morning. We're so glad we did! The storm hit the next day and washed out part of the 101 freeway, which would have left us stranded. That was very fortunate for us! But not so much for all the people who did end up stranded.
We came home with four bottles of wine. (We aren't big spenders, LOL)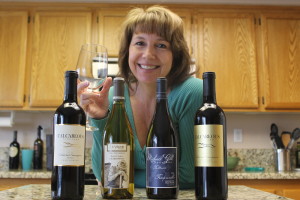 Which we are saving for special occasions.
And now I'm back to writing, panicking and not sleeping. I took a serious wrong turn in this book and learned a hard lesson. Stop turning onto interesting side streets and TRUST MY STORY! Plus–have I mentioned this before?–I hate my process! It is such a mess until one day it magically comes together. I'm still waiting for that day. Although I read over some opening chapters and they don't suck…so…fingers crossed!
As for New Year's Resolutions, I only have one: Be the best version of me that I know how to be.
Okay tell me how you all are doing! Did you have a good New Year? Are things getting off to a good start? ARe you keeping resolutions?