Monday, February 29th, 2016
Multiplicity (Or How to Deal with a Muse Who Runs with Scissors) by Silver James
Today I'm welcoming author and friend Silver James to the blog to talk about how she juggles writing multiple projects, often working on several books at the same time. She has some awesome tips to share on how she wrangles her out-of-control muse into a creative process that allows her to write and publish an impressive five to ten books a year. So without further delay, here's Silver James!
Multiplicity (Or How to Deal with a Muse Who Runs with Scissors)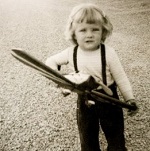 This is my Muse. Her name is Iffy. She runs with scissors and is quite dangerous. She also runs in circles, loves chocolate and spends way too much time on stock photo sites looking at shirtless men. Her imagination is way too active and she delights in waking me up in the middle of the night, whispering sweet nothings about new story ideas in my ear. Back before I was published, this wasn't so much a problem. Well, other than the insomnia-inducing whispering.
Then I sold my first book to a small press, quickly followed by five more. They didn't schedule a book for release until all the steps had been met. While still pursuing a traditional publishing track, I also took the plunge into self-publishing. When I inked my first two-book deal with Harlequin Desire, I was suddenly faced with hard deadlines based on HQ's schedule—books set for release before they were finished, plus promises I'd made to my readers on the self-published side. For a disorganized sort, this was my worst nightmare. No really. I had all these stories, all demanding my time and attention. I'd be working on a sexy contemporary for Desire (billionaire cowboys) and my military SpecOps wolf shifters would hijack my brain. I'd madly jot down that idea—usually resulting in a scene with anywhere from 250 to 2500 words. We won't even talk about pesky vampires, dragons, fae, and the human FBI agent charged with wrangling them. Ah, the joys of being a hybrid author!
To clarify, I have five active series: Red Dirt Royalty for Harlequin, The Penumbra Papers (self-published urban fantasy), Moonstruck (self-published military wolf shifters), and the two off-shoot series in the Moonstruck world, the Nightriders Motorcycle Club, and Hard Target, another SpecOps team that has genetically enhance SEALs, along with wolf shifters and others.
To keep my business plan viable, I have to publish multiple books in each of those series each year. That means I have to write between five and ten books a year. Luckily, most of the books are shorter, category length or are novellas. That helps. So, you ask, how do I get it done? Organization.
First, I had to have solid bibles for each series. Iffy wrangling all the information and keeping it in my head was an exercise in frustrated insanity. FYI, for anyone who might not know, a series bible is like the Wikipedia of pertinent information about the books in the series:
♦ Main Characters: Names, physical descriptions, personality traits, backstory, cars, guns, pets, etc.
♦ Secondary Characters: All the same info
♦ Settings: Names (businesses, streets, places), descriptions, locations
♦ Worldbuilding notes: This includes special words, any rules (like magic, shifting, etc.), important groups, events, etc.
♦ Titles: Published books and blurbs
♦ Upcoming and prospective titles
I can't even describe the Post-it Notes, white boards, bulletin boards, notebooks, journals, and all sorts of organizational attempts I made before discovering Scrivener. While I'm a huge proponent of this writing platform, it's not for everyone. It works beautifully for me. Granted, in the beginning, I simply used it to write a book. Then I learned more about the capabilities of the program and got smart. Trial and error. But this is what I do now.
♦ I create a Scrivener project for each series.
♦ Within the project, I create a folder for each book.
♦ I have a folder for all characters—main and secondary, and I also have a character folder within each individual book folder, with just the characters in that book, for easy referral.
♦ I have a folder of settings
♦ I have a Notes folder that contains worldbuilding notes, special words—I have characters who use terms from their native languages so I keep those for easy copy/paste into the working manuscript.
♦ I have an Idea folder, where I can tuck any brilliant plots, characters, or whatever sweet nothing Iffy is whispering.
♦ For Penumbra, I also have a Playlist folder, because that's part of the series, a playlist of songs for each chapter.
So, that's the organization. With that in place, I can play the butterfly and flit between projects. And why do I do that? Two main reasons: Deadlines and my writing process.
♦ Deadlines: For the published author, deadlines rule our worlds…and our words. I'm lucky that my Harlequin editor is aware of my hybrid status and he wants me to set deadlines that work within both schedules. But HQ pays me. Advances when the contract is signed, upon acceptance of the proposal, and upon acceptance of the final manuscript. They get priority because…money. As much as I'd like to say I write for the art of it, writing and publishing is a business for me. I have bills to pay. I can't base a budget on what I might make with my self-published titles.
Traditional publishing and self-publishing both have a rhythm. You set deadlines—finished MS, beta readers, self editing and revisions, professional editing, revisions, final edits and proofreading, release. There are gaps between those steps, and the smart author starts the next project as soon as a finished project is shipped off to the editor. This holds true no matter how you are published. I'm a firm believer that self-published authors need professional edits too. So, you finish your MS, and send it off to a critique partner or beta readers. Start the next project (or in my case, start/return to the next 3 or 4 projects—LOL) Now you learn to multi-task, juggling two or more projects. You're writing one/more additional project(s), the first project hits your inbox, and you have to shift gears. Some writers drop the current project to focus on the original. Me? I set aside blocks of time so I can work on all of them. Mornings might be edits, afternoons new words on the new project. Or vice versus. Sometimes, I work in sprints—edit two chapters, write a chapter, edit, write. Everyone has to find their own rhythm because this whole process is very much like a dance.
Now, why in the world do I/can I have more than two projects going? Because I suffer from Author's Attention Distraction Disorder. As things occur to me, I either make notes, or write the scene. Here's what's on the drawing board at the moment, including hard deadlines:
1. Moonstruck: Lies, the next compilation novel in final edits/proofing stage for a March 15th release (93K words)
2. Two Nightrider books, one with an October 12th release as part of a Kindle World, one with an April/May release. (25-35K words, each, both started)
3. A Moonstruck world novel with a proposal submitted to a traditional publisher and I'm working to finish it in case of a request for a full. (25-30K words, late April unless they ask for it sooner)
4. A Moonstruck Christmas novella, November (25K words, started)
5. Penumbra Papers #4 Summer/fall release (untitled, 65K words, started, plotted)
6. Hard Target #2 (untitled, 50-55K words, planning, no set release other than 2016)
7. Next three Red Dirt books waiting on a contract decision, all with 2017 release dates: #4 (started/plotted, 50K words), #5 (plotted, 50K), #6 (plotted, started, 50K). All three plots are percolating in my brain and I add to those projects as ideas/scenes pop up.
As you can imagine, the inside of my brain is a totally scary place! The deadlines are noted in big read letters on a white board next to my desk so part of my brain is always aware. That's the role deadlines play. They're the framework that nudges my brain—and Iffy—in the "write" directions at the right time. What makes all this work is my crazypants style of writing process. Do I write on every book every day? No. I work on the most pressing deadlines, with side trips as inspiration hits on the others. And trust me, inspiration hits far more than it probably should. *headdesk* So, let's take a peek into how I write.
♦Writing Process: I'm a puzzler. When I begin a new book, I know who the main characters are, the beginning of the book, and usually, the end. I know the world. I have a decent idea of the plot and character arcs. That's like working a jigsaw puzzle and getting all the straight-edged pieces put together to frame the puzzle/book. Then I find pieces and I put them together. Sometimes, they fit right into the frame (linear writing). Sometimes, the pieces clump together in the middle, a scene I know will happen but I'm not sure exactly when in the book's plotline. I write the scene, tuck it into the correct Scrivener folder and move on. Yes, I have AADD. I can be BICHOK madly typing toward the current deadline and a scene from a totally different book will pop into my head based on a song, a word prompt, something on TV, or just out of the clear, blue sky. When that happens, I immediately stop, write it, tuck it away and return to the most pressing current deadline. Sometimes, I have to get a coffee refill, or do a little time on my gazelle, feed the birds, or pay attention to the fuzzy critters before I get back in the correct head space, but those breaks are likely to happen even if I don't get distracted.
I should also mention here that I write fast and hard when I write. I've been known to do the equivalent of NaNoWriMo for several months in a row. I write full time, have no kids at home, though I occasionally babysit the grandson, and my husband is totally supportive so if laundry stays in the basket or dinner is late/extra crispy/fastfood, he goes with the flow. I know exactly how lucky I am!
Do I recommend this crazy load for everyone? Oh heck no! Run! Run far and fast! LOL Yet, with the fast pace of today's publishing world, a working writer really needs to be able to multi-task with multiple projects. As I mentioned above, the path from blank page to release is a dance. Sometimes, it's a waltz, sometimes a jive, occasionally the Argentine tango and the cha-cha-cha.
Know your deadlines—whether contractual or self-imposed.Get organized. Find a writing program and a process that works for you. Set a schedule. Don't be afraid of letting your Muse (imagination) have a long leash. If you aren't working under deadline, give yourself the luxury of moving to a new project if you stall on the current one. One of the best pieces of writing advice I've received is, "When you get stuck in a scene, move on to the next scene you know is going to happen." Doing that, I often figure out what wasn't working and can go back, fix the stuck scene, and move on. Sometimes, that next scene is in a totally different project. New words are new words, as far as I'm concerned, and they all get me to the end of the dance and THE END.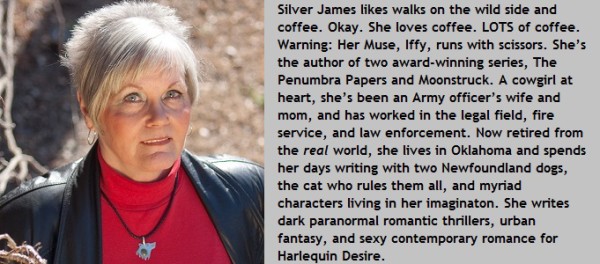 To find out more about Silver and her books, visit her at these social media sites: Website | Amazon Author Page | Twitter | Facebook | Pinterest | Newsletter Sign-up