Monday, May 9th, 2016
Weekend Roundup
My weekend was awesome! Each of my kids either came over and spent time or called and talked (that was middle son who was out-of-town, but made time to call which made my day even better) It was all lovely and a perfect way for me to de-stress. I won't go on and on (trust me, I can passionately talk about my kids and their amazing wife/girlfriends for hours). But I will mention that these Hot Fudge Cheesecake Brownies–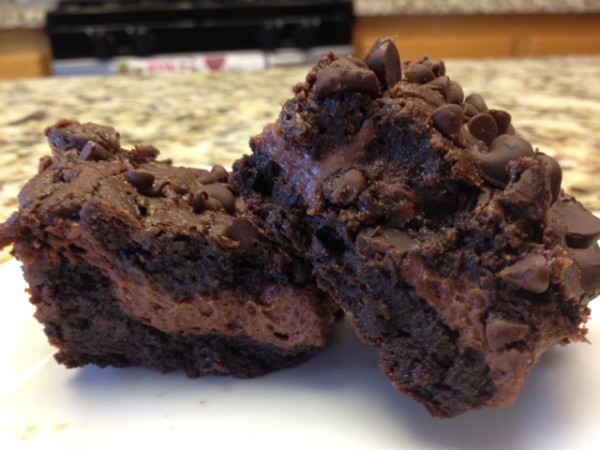 –are KILLER GOOD and so rich they might just be deadly. Part of my Mother's Day weekend was to take time off from writing on Saturday to test this recipe. It's something I enjoy doing, I blast my Pod in my kitchen and bake. It's really my happy place. Anyway, they came out soooo good! The only adjustment to the recipe I made was for the 3/4's cup cocoa– I used a 1/2 cup regular Hershey's unsweetened cocoa, and a 1/4 cup Hershey's special dark unsweetened cocoa. I think it added a nice depth to the brownie portion of the treat. But you have to be a die-hard chocolate lover to enjoy this brownies. I begged Wizard to let me toss them yesterday to get the remainder out of the house, but he couldn't bear to part with them. So after my totally indulgent weekend, I now must go back to practicing self-control

 Today I'm resuming my Weight Watcher's program.
So an interesting thing happened as I spent a good portion of the weekend NOT thinking about the novella…I had great ideas to really develop and push my characters and create more tension in the plot. This almost always happens in this exact fashion. I do all the hard work developing the characters and plot, spend energy writing and rewriting, then for some reason step away. And it all begins to gel in my head. I still have work to do but it's so much more fun now!
And lastly, my visit to the Social Security office Friday went fine and I should have my verification this week that the simple correction was put through (Fingers crossed on that!)  I had originally told Wizard not to go with me, but then he mapped where this office was located, and said, "I'm going." As it turned out, he was right. Not an area I'd want to be alone in. So another point for Wizard, LOL.
Okay now I want to hear how YOUR weekend was!