Friday, July 8th, 2016
Happy Friday
**Edited To Add: I wrote this last night before the Dallas Shootings of eleven police officers. There's so much tragedy and horror going on right now, it feels like our country is bleeding and I don't know how to stop it. My heart goes out to everyone in Dallas, the officers and their loved ones.**
It's been kind of a rough week. Not hideous, but frustrations at every turn, including some unsettling news yesterday. So…let's focus on the good! Because no matter how dark, scary or frustrating things seem there's always good. I can think of three good things for me right off the top of my head:
The Romance Writers of America Conference is next week! Getting out and talking to other writers and industry professionals is always inspiring and I need that right now. Perfect timing.
Wizard is going to San Diego with me! We're planning some fun together including the baseball game (Wizard is SO excited as it's his beloved Giants playing!) and some dinners. Even better, Wizard is perfectly happy entertaining himself while I'm busy at the conference. I never have to worry that he'll pout or be mad. It's awesome to be married to someone who understands the demands on my time so I don't feel pulled in ten different directions.
See this girl?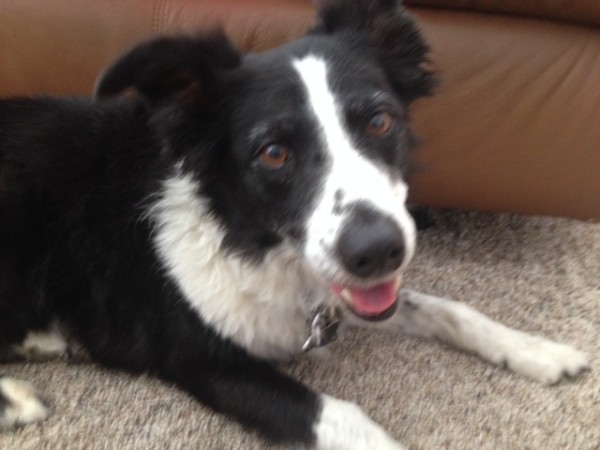 This is Roxy. She's Youngest Son (BLB's) girlfriend's dog, and you may remember that she was diagnosed with cancer a while back. It was shocking and awful. But the good news? After long, harsh months of chemo treatments, she's in full remission! She came over with BLB to hang out with me last Sunday. She was a delight and clearly feeling pretty darn good. It's truly some great news. It wasn't easy for BLB's girlfriend, but she put everything she had–money, time, emotional energy, endless love and a lot of worry–into fighting for Roxy's life, and look at her now! This isn't the best picture (I took it super quick) but you can see she's healthy and doing well.
So that's my good news. What about you? I want to hear any good news, big or small. And I hope all of you have a great weekend!