Monday, July 18th, 2016
Weekend Roundup
Note: I'm writing this blog totally exhausted after getting home from the RWA Conference

I missed you all!! The conference was super low key for me, I got to very few workshops, but caught up with a lot of old friends and met a whole slew of awesome new friends. And oh the location! Guys, San Diego on the Marina is gorgeous! I've always loved San Diego but I'm even more in love with it after spending five days there. Just beautiful and there were plenty of restaurants, either on the marina or the Gaslamp district that was pretty much across the street. We really enjoyed it.
And let's just say that Wizard told everyone in the known universe I'm an author. I found that hilarious. He doesn't usually do that in our normal lives. But at the conference, he was totally into it. It made me laugh and I've teased him about it mercilessly. "But Witch, I wanted everyone there to know who you are."
Um…I'm pretty much just one of a couple thousand authors there, LOLOL!! Not that special, except to Wizard

I also want to mention our own Silver James, who received a big Service Award for years and years of volunteering for the Romance Writers of America. What that means is that she worked damn hard, giving time, energy and true friendship to countless writers over many years and is known for her passion and generosity throughout the romance community. It was awesome to see her selfless dedication recognized! I'm very proud of Silver and thankful for her service and friendship. I took some pictures of her on the jumbo screen when she was onstage but I was in the back of the huge room–trust me there were probably well over a 1,000 writers in that room. I purposely stayed in back to help protect my bruised toe which meant I couldn't get a great shot of Silver James graciously accepting the award with her usual brand of humble humor.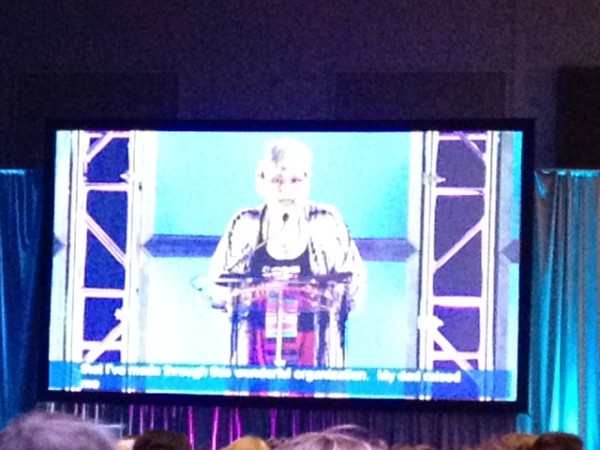 Afterward we grabbed some coffee to catch up and I think a dozen people stopped Silver to tell her congrats or to thank her for her work that helps all of us as authors.
My toe survived! The bruising made a few people cringe (sorry!) but I did much better than I expected, and I'm happy. I'm taking off the gym today and we'll see if I can get an athletic shoe on Wednesday. After endless eating, I need to get back to the gym.
But right now, I'm going to write, write and write! I came home motivated to get Savaged Dreams revised and back to my editor in two weeks. And she's working on editing the novella, Savaged Surrender this week so I need to work faster, harder and smarter to get all caught up.
How was your weekend?