Monday, August 1st, 2016
Weekend Roundup
It's a brand new month! I'm so over July–the month was on crack or something. A few incredible highs and too many wicked lows. I'd kick it in the butt on the way out the door, but I'd probably break my toe.
Oh wait, I already did that, LOL! FYI, the toe is healing fine. Did I mention that Wizard has a herniated disc in his back? We got home from San Diego on Sunday, and Monday morning Wizard woke up in serious pain.
Um…possibly from dragging my suitcase up the stairs, but let's not get crazy and blame me. It's much more fun to blame July. His back problems led to a round of doctor visits, x-rays, MRIs and now we're waiting for referrals for more specialists.
Did I mention I'm over July?
But now it's August! I'm hoping we all have a great month.
So this weekend. On Saturday, Middle Son and his girlfriend came out to celebrate my birthday (my actual birthday is tomorrow). There were tough moments, of course as Bailey was Middle Son's dog, and for the last three years, Middle son's girlfriend has been Bailey's mom (seriously, she took amazing and loving care of him when he needed it most). But to my surprise, they wanted to come anyway. And it turned out to be a good day, quiet with just the four of us, and I think we all needed that. We talked, swam and BBQed. They brought four flavors of mini cakes from a special bakery by their house: Chocolate, Lemon, Lemon Raspberry and Red Velvet. We split them up so we all got a slice of each.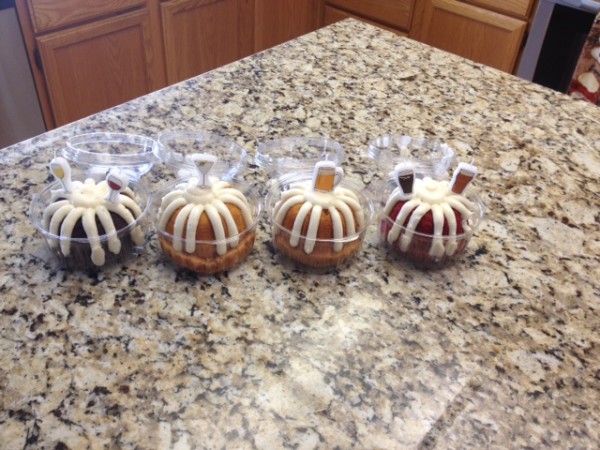 Wizard's taking me out tomorrow night, I'm seeing Biker Witch on Wednesday, and CPA Boy is coming out next weekend–because apparently we're going to drag my birthday out over a week, LOL! If it were up to me, I'd have cancelled my birthday this year, but no one listens to me and I love them all for it.
Sunday I wrote. Man this book is killer hard to revise. I can't tell if I'm totally screwing it up, or maybe, just maybe making it better. But I'm in it to win it now

This is the time to have blind faith, keep working and believe.
How was your weekend?