Monday, September 19th, 2016
Weekend Roundup
It was a busy weekend! First, no sign of our Gopher! It looks like after a week of an intense battle, Wizard may have won!
Saturday we had a great time going to lunch and wine tasting. It's beautiful out there in the Temecula Wine Country. We came home with three bottles of wine that we'll admire but be too cheap to actually drink unless there's a super special occasion

Sunday was a mixed bag. I had a good writing day and made really solid progress on the novella revision. I feel pretty positive right now (but wait ten minutes, that could change, LOL). In between writing, I made these donuts: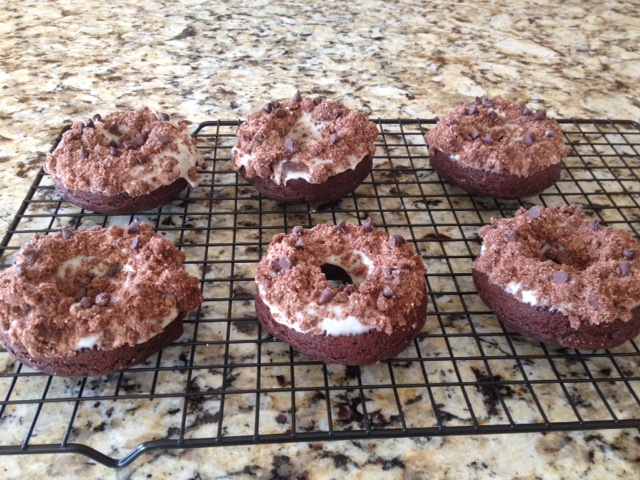 The donuts were baked not fried, and came out a little dry. I can adjust the recipe and baking temp and time to compensate for that. And next time, instead of the glaze and crumb topping, I think I'll use a chocolate ganache. The crumb topping just adds dryness, so it works better on a fried donut.
The minor blip on the weekend was Sunday morning when I decided to make a quick trip to Target and the driver's side mirror on my car broke. As I made a left turn, the darn thing just snapped and started swiveling back and forth at will. What's even more frustrating is this happened on the passenger side of the car two months ago, on the very morning we were leaving for the RWA Conference in San Diego. So I know EXACTLY how much it's going to cost to fix and it's not cheap. At that time, we didn't have time to mess with it, so we just dropped it off at our trusted repair place to fix while we were gone.
This time, Wizard may attempt to repair it himself using YouTube Experts as a guide. Fingers crossed that it works! But I can't really complain too much, the car is seven years old and stuff breaks.
So how was your weekend?