Friday, October 28th, 2016
Happy Friday!
I sent off Savaged Dreams to the editor for her final round of editing. So for me, it's a definite…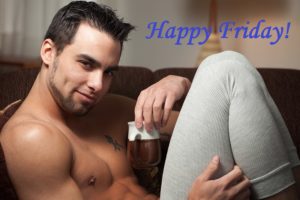 My editor and I were discussing the Savaged Trilogy series, and what is the best way to release these books. We believe we should hold off until next year, and then release these books back-to-back about a month apart. We strongly believe that will make readers the happiest, especially since the books are about the same couple, Justice and Liza. Justice is a rising rock star seeking fame, and Liza is a woman with an explosive past who's been living in obscurity. Their love is a collision of their hearts and worlds. The first book is 80K words–that's a full length novel. The second and third books will be roughly the same size. This is a big story that I really believe in and I want to do it right. So my team and I are going to be working on a plan and keep you all up to date. I'm going to be writing, writing and writing!
And on top of that, the Wing Slayer Hunters, Eli and Ram in particular, are really nagging me. I swear, I'm going to figure out how to write their stories and release those back to back, although it won't be until after the Savaged Trilogy is finished. I hate that I've left it this long, and I miss that world so much.
My next week is going to be seriously organizing, planning books and handling all the details to set this up. Then I'm going for it, full-bore. I'm so committed, I actually contacted some house cleaners to get estimates, and one is coming by in the morning

I hate doing it, but it'll take some pressure off while Wizard's so seriously limited with his back, and give me more time to write (and go to the gym!).
I'm excited guys! It's nice to feel energized again.  Nearly a year ago, things came to a screeching halt due to Real Life, and it's just been a battle since then. But this last month to six weeks have been better (except for Wizard's back!), and I'm hopeful things will stay on this path for a while.
As for this weekend, I'm hoping to have lunch with Biker Witch, do some reading and work.
What are you doing this weekend?