Monday, October 31st, 2016
Happy Halloween!
Beware of the monsters!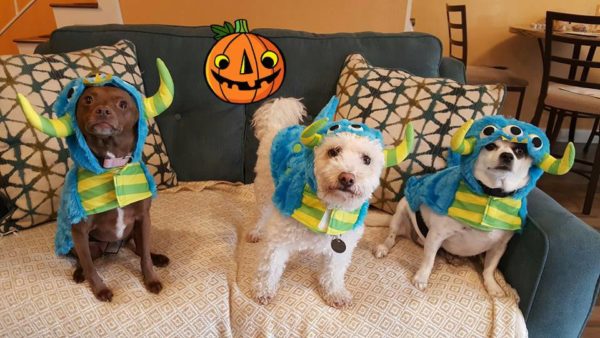 Yeah, I'm not scared either, LOL! These are CPA Boy and Special K's pups. From left to right is Cookie, Max and Corky. All three of them pretty much have the same expression of WHY MOM? WHY???
This weekend had a surprise–my final edits came back from my editor earlier than I expected, and my editor's comments filled me with wild joy. The ending made her cry, and she expressed how much she really, REALLY loves and believes in this story more than any we've worked on together. Since Sasha is my toughest critic (as she should be!), her words make the months of writing and rewriting, the two rounds of grueling edits and lying awake nights wondering if I'd totally lost my mind trying to tell this story, all worth it. Her email was true validation. The final edits are easy, and I did the 95% of them all yesterday. Of course, after I get this copy edited, I have to sit on this book while I write the next two because I'm determined to release these close together

Sunday I met Biker Witch for lunch and had fun! This morning I'm headed to the gym. I've only been once it two weeks due to my work schedule, and man, I FEEL it when I don't work out. I need to do cardio to stay loose and feeling my best. Then tonight Wizard and I will hand out candy to trick or treaters.
How was your weekend and do you have any Halloween plans?