Monday, January 2nd, 2017
Weekend Roundup
Our New Year Day Eve was fun but dinner was a disaster. Wizard and I have made steak and lobster together easily more than a dozen times. Somehow this time, we failed. The steak was supposed to be a rib eye, but it was dry shoe leather. The lobster wouldn't cook correctly and I was afraid to eat it. I think it had been frozen too long, or at some point, frozen, defrosted and refrozen. I had no desire to test my difficult stomach with questionable seafood

But I'd bought some fresh French bread and that was delicious! So we ended up mostly sipping some good wine and eating excellent French bread. Then we hung out and watched movies.
I got up early New Year's Day to work, which I did for an hour. But around 6:30 I decided to make cranberry sauce to use later for Baked Cranberry Brie Appetizer. I'd already made chocolate chip cookies because two out of three kids were supposed to stop by for a few minutes. But I had a feeling I was going to need more than cookies. Apparently, I was making enough noise to wake up Wizard–he stumbled into the kitchen but I didn't hear him because I had my headphones on, listening to an audiobook and cooking. Finally he yells out, "What are you doing?"
I jumped, took off my headphones and answered, "Making cranberry sauce."  I mean Duh, why else would I be grating orange zest into a pan of cranberries and sugar?
He shook his head. "Seriously? At six thirty in the morning?"
I looked at the clock. "It's six-forty-five now."
He shook his head and laughed. "Oh well now it makes total sense."
I decided to ignore the obvious sarcasm and asked, "What did you think was going on?" I was curious why he got up. It's not like he hasn't heard me doing stuff in the morning before. I usually write but once in a while, I'll decide to cook or prep something in kitchen.
Wizard answered, "I heard banging and thought you found ants. I came down to help."
I forgave him for the earlier sarcasm. Guys, the mornings for Wizard are rough with his herniated disc. I mean, it's hard to watch how much pain he's in. It literally took him 10 to 15 minutes to work his way out of bed and down the stairs, but he did it because he thought I was battling ants and was going to help. I know it's not technically romantic, but moments like that take my breath away. Wizard knows how much I hate ants in my kitchen. And no matter how much pain he was in, he was going to help. That kind of love is not something I'm going to take for granted even after all these years. And FYI, his surgery for the herniated disc is only weeks away now. (One of his doctors last week reinforced how much he needs this surgery too, which is good. Surgery is not something we've jumped into lightly, but there's really no option at this point).
So, as it turned out, my intuition was right. Around 10am New Year's Morning, I got a call that all six kids (my three sons and their mates) plus Baby Jett were coming over for lunch and to hang out. I had the baked brie appetizer and cookies, and one of the boys stopped and picked up pizza on his way so it worked out great (if a tad unhealthy, LOL). We had a very kick back afternoon. I think Jett can demonstrate our energy level perfectly: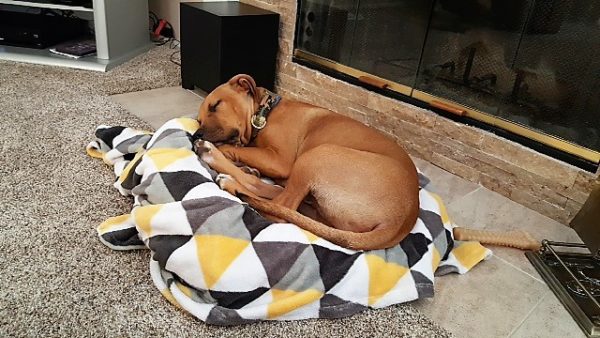 It was Jett's first time at our house. He wasn't interested in the pool, but loved exploring the backyard and side hill. Inside the house, he refused to go up our stairs to the second floor. He goes on stairs on his walks at the beach all the time, so that was interesting. But Jett's a six month old puppy and while he's a pretty confident dude, he's still learning and mastering the world. This just wasn't his day to take on the "inside" stairs for some reason. He's so young that I'm betting next time he comes over, he'll race up the stairs. Otherwise, Jett had fun playing, but as you see from the picture, he's also happy to chill out and take a nap on his travel bed.
My year is starting off well. I'm behind where I wanted to be on the book, but that's okay, I'm working now! And this year, I'm starting off determined to believe in myself and the books. I know what I want to accomplish this year, so it's just matter of fingers on the keyboard and trusting my story over the shrill voice of self-doubt in my head.
How was your weekend, and how's your new year starting off?
NOTE: Next Monday I'm planning to write a post reviewing my 2016 goals and talking about 2017. And I want to talk a little bit over the next weeks about the state and business of publishing.