Friday, February 3rd, 2017
Happy Friday Five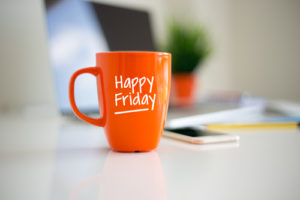 Hope everyone had a great week! A quick Wizard update: We saw his doctor, and Wizard is doing well. He's "on track" healing wise, and well enough for the doctor to remove the stitches in his back. Wizard is having some nerve pain that comes and goes, that's also normal. All signs are positive right now. Wizard will probably start physical therapy in the next week or two.
And sorry I didn't answer all the comments on Wednesday. I read them on my phone, but it's too hard to answer them there. For two days now, I've been playing Real Life Catch-up, and haven't been at my computer much. Today I'm planning to be home and writing. Wizard only needs minimal help now, and my book needs a LOT of my attention.
Now let's do Random Friday Five

Okay it's true, I'm getting attached to a little dog that is half poodle. Apologies to all the poodle lovers out there, but I grew up next door to an unpleasant poodle so they just weren't my favorite dogs. Then Max–a Maltipoo came into our lives and I can't help but love him. He's just a sweetheart. The moral of this story is never say never because then a Max comes along and proves us wrong. I mean I never thought I'd love small dogs and Bailey changed my mind. (Wizard's in the background yelling, "Jen will fall in love with any dog in the universe!!!" He's not wrong )
Wizard's neurosurgeon's office is 55 miles away. It should take us an hour to get there, including parking. With traffic–an hour and a half tops. The day of Wizard's appointment took us two freaking hours through nightmare traffic! Fortunately we left super early knowing that parking would be a problem, and it would take Wizard a while to walk into the complex so we got there in time. But it was a miserable drive. #SoCalTrafficSucks!
I made oatmeal chocolate chips cookies because I felt like it. I don't care about weight right now. I will care when I can get back to the gym and a more normal routine.
I love this book so much and yet it's soooo hard to write. No sympathy friends, I do this crazyass shit to myself. Write, delete, second guess, worry, don't sleep and somehow finally write a scene and I can live with–then do it all over again with the next scene.
I'm reading some books for a contest. Two of them look so promising, I bought the Kindle versions so I can read them at night when I can't sleep. Sometimes, I have to really struggle with contest books, but I always learn something even when I don't love the books. It's so much easier to spot the problems with someone else writing, story or structure than with my own. I'm always glad I made the time to volunteer for this. One thing I know for sure–make me love and worry for the characters, make me FEEL for them, and I'll forgive a lot of other problems in the book!
Okay your turn! Share your random Friday Five.