Friday, February 24th, 2017
Happy Friday Five
I swear it was Monday, then I blinked, and now it'f Friday! So let's do our list of five random things:
1. I hit the middle of the book and panicked. Big ugly panicking. So what did I do? Take a step back and re-evaluation? Apply some logic? Heck no, I scheduled delivery of this book to my editor on April 5th. People, the first half of this book is a mess and I'm doubling back, dropping in scenes and writing notes it capitals letters, and the second half…isn't freaking written yet. But I scheduled delivery of my book! Nothing like a little pressure to get those creative juices flowing, right? Bwhahahaha!!! I'm just diving in and giving it my all while my inner child is throwing things and screaming, WHY DID YOU HAVE TO WRITE SUCH A HARD BOOK? WHY???? But you know, I totally have this under control…NOT.
2) Despite #1,  I love this book more than ever. Especially when my heroine is getting all feisty and demanding that I get out of her way and let her make her own mistakes. Go Liza!!!
3. I went back to the gym this week. It helps balance my stress, and it's a great place for me to listen to an audio book guilt free

I'll do more cardio if I'm enjoying the book so it's a win-win.
4)  I made this No Knead Rosemary Parmesan Skillet Bread last night. It's a heavy bread with a chewy crust, and great for dipping in a little olive oil and balsamic vinegar.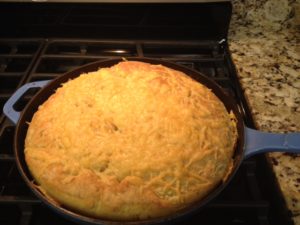 5) I've completed  my secret scene–the side project that I came up with at 2am and couldn't resist doing–and had it professionally edited. I won't be using that until April, but it's so nice to be ahead of something for once! It cost me some time away from this book, but honestly, it was such a fun project that I think it's good break for me.
That's my five, what are yours? Happy Friday and Have a Great Weekend!