Friday, March 24th, 2017
Happy Friday!
Beware, Wizard might have a cold! Duck and cover people! Wizard + Cold = Nuclear Whining!
Which reminds me, the day that Wizard had surgery, CPA Boy was with me at the hospital.  So once Wizard was all prepped, his neurosurgeon came in and explain how "severe" Wizard's ruptured disk was and what they needed to do. Trust me, he spared no details. Once they whisked Wizard off to the laboratory…uh operating room…CPA Boy and I were in the waiting room when he turns to me and says, "Mom we really dodged a bullet here."
"How?" I asked.
"Because this is just a little major surgery. Dad could have a MAN COLD."
I cracked up! And he was soooo right. (Yeah, I knew he was setting me up for a joke, but CPA Boy amuses me.)
But now this MAN COLD plague might have arrived. Sigh. People all around us are sick, so it's not that much of a surprise. I'm not feeling that great either, but hoping it's just sinuses.
Otherwise, I'm in the trenches with this book and the April 5th deadline bearing down. And oddly enough, life doesn't stop just because I have a deadline, so there are family birthdays and assorted events

Oh yeah, I saw my RA doc yesterday, and he gave me his diagnoses of, "You're a workaholic." I asked for a prescription to work faster and more efficiently, but he wasn't helpful at all. He's very helpful with my RA though.
This weekend we're planning to go to middle sons if Wizard is well enough. If not, I'm going to be fulfilling my doctor's "workaholic" diagnosis.
What are your weekend plans?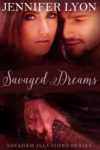 P.S. If you didn't know, SAVAGED DREAMS, Book 1 in the Savaged Illusions Trilogy is up for preorder!
Amazon / B&N Nook / iBooks / Kobo / Google Play