Sunday, March 26th, 2017
Weekend Roundup
Poor Wizard is really sick with a cold

I feel bad for him. He's not whining but I can see he's miserable. But the bright spot in our weekend was going to middle son's for his girlfriend's birthday. We asked, and they said it was fine to bring cold germs with us. And guess who was so excited to see us, he put on a bow tie?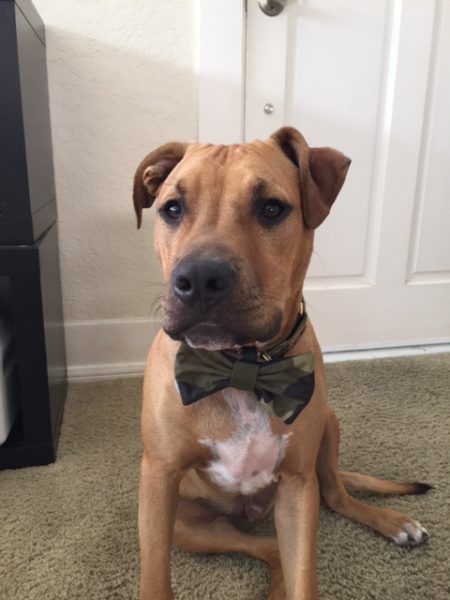 This is "baby Jett" who is now nine months old. He's a big boy! And so danged funny. He has these doggie expressions that are priceless. I had a great time playing with him. I also loved hanging out with my son and his girlfriend, who is more than much more than a girlfriend to us.
I'm racing toward the end of my book. As I write this on Sunday night, I'm going to take the rest of night off so I can tackle this fresh in the morning. I have a bit over a week to get to get this done and somewhat cleaned for my editor. It's a big task, which are the best kind of challenge as long as I don't Wizard's cold! Usually I'm super lucky and only get the 27″mild" version of a cold so fingers crossed my luck holds!
And in a totally random aside,  I was talking to Wizard about fostering dogs, and he said he'd be totally willing to foster unicorns. Um…did I overdose him on cold meds or is he just messing with me?
So that was my weekend, how was yours?