Wednesday, October 11th, 2017
Wednesday Worthy & My Worst Kept Secret!
I've teased you all with my secret…but now I'll tell you all in a minute.
First, about my books. I'm energized and really trying to get Savaged Devotion done. It's going to take a few weeks, but I'm loving the refreshed feeling after the NINC Conference. I'm still dealing with pain and the same old struggles, but I believe that in MTD (Mental Toughness & Discipline), or what my sister and brother lovingly call "Jen's bulldog attitude."
I will say that I was dealing with a bunch of medical crap for two days that required me to spend hours doing the job of my doctor's medical staff, instead of my own job of writing. I'm not exaggerating, you can ask Wizard. However I had a forty minute phone call with my new health insurance yesterday and they will be moving me to Wizard's doctor in November. I know this doctor, he's taken very good care of Wizard and youngest son (BLB) through his serious leg injury, so this is a huge relief for me. I will lose my RA doc who has done so much for me, but I'll have a better team helping me overall. It's a good tradeoff.
Enough of all that, now let's talk about my worst kept secret. Wizard and I are signed up to become Foster Dog Parents at our local animal shelter!! We are already approved, and will go this afternoon to meet the foster dog coordinator and hopefully begin meeting some dogs. I am so excited! As a lot of you know, I once worked a large animal shelter, and I'm a big believer in shelters. Helping these dogs is one of my passions, but I haven't been in a position to do much before now. My hope is that I can take one dog at a time, help him or her adjust to a home environment with a little love and training, then take them to shelter sponsored adoption events to find them a forever home.
Wizard is predicting I will fail and keep the first dog I get

But I really want to try to do this. It does a lot to help the impacted shelter by freeing up a kennel and thereby keeping one dog from being put to sleep (it's a brutal fact of life in the real world of animal shelters) and help a traumatized dog readjust after being place in a shelter full of fear and confusion. I truly believe in helping one dog at a time. But if I do fail and keep the first dog, I'll find another way to stay involved.
I really care about shelter dogs. However, I want to be clear–I'm also fine with buying a dog from a reputable breeder. If I had the money, I'd buy a French bulldog puppy from a good breeder in addition to helping shelter dogs. But I know that breed often needs specialized and expensive medical care that I probably can't afford, so I haven't done it. What I'm saying is a dog is a dog, and if someone provides a good home for the dog, I'm all for it.
I am against puppy mills as is any compassionate human being. I want them all put out of business and every dog in trapped in those hideous places rescued. If you don't know about puppy mills, Google it. Ten minutes of reading will turn your stomach.
But shelter dogs will always have a special place in my heart. And now I get to do one little thing to help a shelter dog. Wizard is very willing to try this and see how it goes. He's going with me tomorrow today meet the coordinator and begin meeting dogs. He's been really supportive since the first day I brought up the idea of a few months ago. And this is a good way for us to find out if we are ready to commit to a dog

So that's my news. I wanted to find Wednesday Worthy Candidate that fit the Dog Theme of the blog today and this was as close as I could come: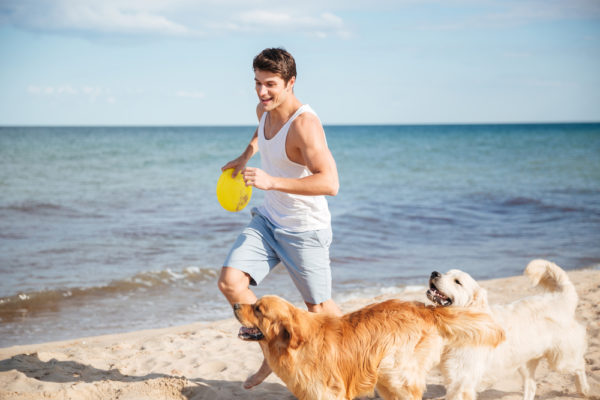 What do you think, is the guy worthy? How about the dogs?
P.S. One of the websites I love is called Bound Angels, where master dog trainer Robert Cabral and his team work to help shelter dogs. If you're interested, check it out here.