Wednesday, November 22nd, 2017
Happy Thanksgiving!
Tomorrow is Thanksgiving here in the U.S., a day many of us gather with family and friends and remember to be thankful. While this has been a challenging year, I have so very much to be thankful for. And topping my list is all of YOU who visit this blog. Thank you, friends, for all your support and friendship this year. I'm truly grateful and honored. You've really helped me through a rough time.
I'm always thankful for my family. And in March, we will welcome our first grandson! Wizard and I are ecstatic about becoming grandparents. In addition our middle son is engaged to a wonderful woman and just bought his first house. And Youngest Son has been making extra time to hang out with us on Saturdays and provide a little extra support/reassurance as we adjust to having a foster dog. Which brings me to my last thing for today:
I'm thankful for this girl!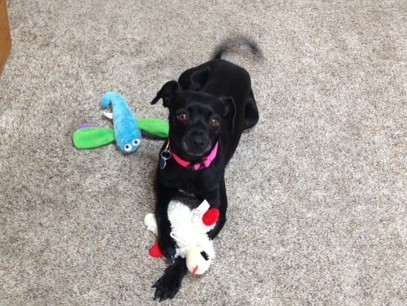 Today (assuming nothing comes up that delays the appointment) we are officially adopting her! Her name is Maggie May Apodaca. For the first time, I'm happy to "fail" at something. A Foster Fail is someone who falls in love with their foster pet and adopts them

That's me! (And Wizard!) This dog has captured our hearts. Trust me, pictures just don't do her justice. When you see her in person, her sweet, gentle spirit shines through. She's still a mommy's girl, but she's expanding her horizons each day. Maggie fills our days with smiles, laughter, love and companionship.
If you all have a minute, share something you're thankful for. And to everyone in the U.S. I hope you have a Happy Thanksgiving with family and friends, and for everyone outside the states, Happy Wednesday!
P.S. I probably won't have time to post on Friday, so have a great weekend too!