Monday, February 5th, 2018
Weekend Roundup
It was another un-crazy weekend for me, which I so appreciate! I can't even remember what we did Saturday, just normal stuff. Sunday, my sister, Biker Witch and her Biker Hubby came to visit for a while. Maggie was thrilled to have company! But she was a little sad that she didn't get to go for a ride in their snazzy new SUV

After they left, Wizard went to his brother's to watch the Superbowl and I stayed home with Maggie.
I spent some time writing too.
Just for fun, here's a picture of my oldest son, CPA Boy, at a Spartan Race (It's a BRUTAL 8 miles race with obstacles that would have made me cry or run for the nearest donut shop).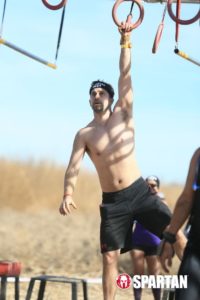 I love watching the concentration on his face. That's what I'm working on regaining in my work! Until half way through last year, I had that same focus, and I'll get it back again! And yes, CPA Boy completed the Spartan Race

So that's my weekend, how was yours?