Monday, June 11th, 2018
Weekend Roundup
We had a pretty good weekend. Wizard and I went to the movies to see Bookclub. Eh, it was just so-so, but it did the trick as far as getting Wizard out of the house (he's still on restricted activity), and to distract me from an post-procedure headache. Saturday, I did errands and some writing. Sunday I made these: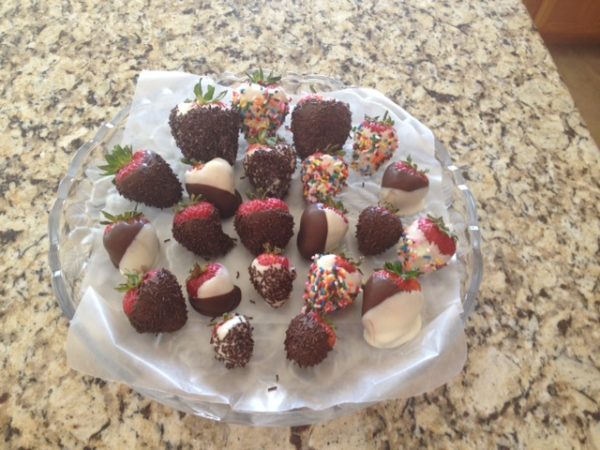 I had Special K and youngest's fiance come over to talk about a family party thing we're doing in a couple of months.  Of course,  CPA Boy and Baby Slayer, and Youngest Son came too. But I made the chocolate covered strawberries for the girls

Baby Slayer was hilarious when he got very interested in one of my couch pillows and chatted away with said pillow. LOLOL!! Babies are awesome.
My goal this week is to finally get out of a plot dip that I've been swimming around in so long that I've turned a "dip" into the Grand Canyon. So I realized it's time to stop worrying about the whole book, and focus on getting out of this ever-deepening spot before I drown.
So that was my weekend, how was yours?