Monday, September 17th, 2018
Weekend Roundup
Awesome weekend! My niece's wedding was at sunset against the rolling hills of Temecula Wine Country (in Southern CA).  My niece was beautiful, and both the bride and groom shined with love and graciousness. All three of our sons, their wives/fiances and Baby Slayer went, and I'm so proud that all of them really strive to make these important family occasions. It truly was a fun night, and of course, Baby Slayer was adorable as he was passed around the family and extended family. There was also a little flower girl from the groom's side of the family who was so cute too. She did a great job of walking down the aisle and dropping rose petals from her basket. I'm guessing she was about three or four, and later that night, she was dancing up a storm on the dance floor. She was totally precious!
And of course Baby Slayer spent the night with us (along with his mom and dad). Baby Slayer was so keyed up he didn't go to sleep until around midnight, but then he slept straight through until about 7:30 or so. He's such a good baby! Here's a pic of him with me right after waking in the morning when he's mellow and just hangs out for a little while.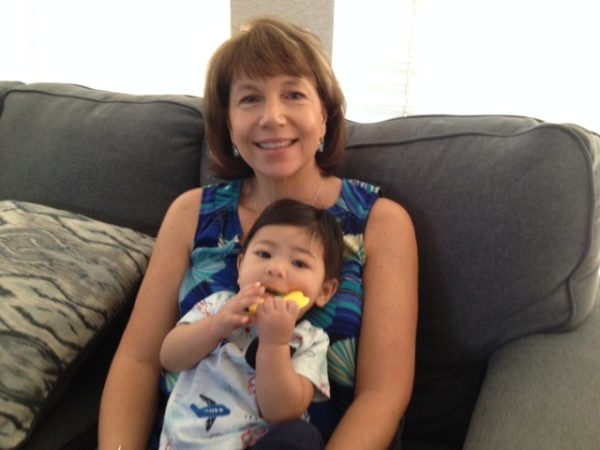 This is Baby Slayer with his dad (cut out of the frame cuz it's all about Baby Slayer which makes CPA Boy pout and say things like, "Remember me, Mom, your first born son?" LOL!!) And look at all that hair on that boy! He's still a bit young, and way too wiggly, for a haircut.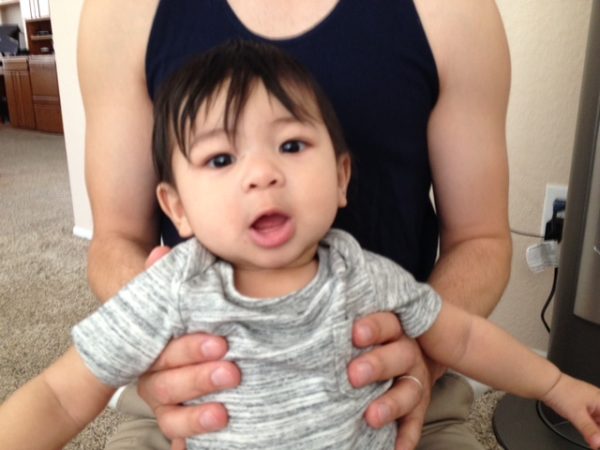 He smiles and laughs all the time, but I didn't get any pictures of that, of course. I was too busy playing with him! By the time they went home Sunday afternoon, Wizard and I were toast. I don't think I can lift my bad arm (from my neck issues), but it's all worth it! Wizard, CPA Boy and Special K, watched me for the slightest wince of pain–honestly they're all exhausting because nothing's going to stop me from playing with Baby Slayer! But I do speak up if something causes hot pain, or I know I can't lift him at a certain angle, so they need to trust me to tell them

On the other hand, family care and be a little protective is a pretty good problem to have in life.
So that was my weekend, how was yours?