Friday, October 5th, 2018
Weekend Roundup
TGIF!!! I expected the week to be busy, but wow!! Nothing bad happened, though, so I'll take it! Now it's time to share 5 random things about our week, and I'll go first:
1) First, Happy Birthday to the best sister in the world, Biker Witch! I've had to lean on her quite a bit in the last 18 months, and I believe she leans on me too. I not only have a great sister but a treasured friend.
2) Middle Son is getting married on Sunday! Wizard and I are thrilled that he has found the woman he wants to spend his life with, one who makes him laugh, and calls him on his B.S. Middle Son is highly intelligent, brimming with charm and brought so much laughter and joy to our family from the day he was born. And now he's bringing his dad and I a daughter (in-law) to love, and his brothers a sister (in-law) to torment and protect. We are bouncing with happiness.
3) Wizard and I actually, really, truly went and looked at cell phones yesterday! After TWO FREAKING YEARS OF PROCRASTINATING. We are awesome procrastinators. I think we found what we want. My only reservation is my new phone will be much bigger than I'm used to, which is good for most things, but not for my walks. That's a small thing I can adjust too. But since we're so busy through the weekend, we decided to wait until Tues or Wed to buy it. Both Wizard and I will have a learning curve on our new phones, and this weekend isn't the time to tackle that. Plus I wanted to research the phones because I'm compulsive like that. But all our family and friends will be astounded that we finally went to the store, got the info, and narrowed down our choices. Following through is something we're actually good at

4) So this month, we have two major surgeries in the family. The first is my brother-in-law, who needs to have a pretty serious surgery. Keep him in your thoughts mid month. I'm not going to give other people's information out, but while he's facing a tough surgery and recovery, I truly believe the outcome will be very positive. And then my surgery has been schedule for Oct. 30th. It's scary to do it, but I want to feel strong and ready to take on life again. Hopefully I'll have my new phone and be able to keep everyone who is interested updated. My old phone is so antiquated I really can't do much on it anymore.
5) And finally, I have to share a Baby Slayer pic with his big grin around his sippy cup (that he loves!). This kid is almost always a happy boy.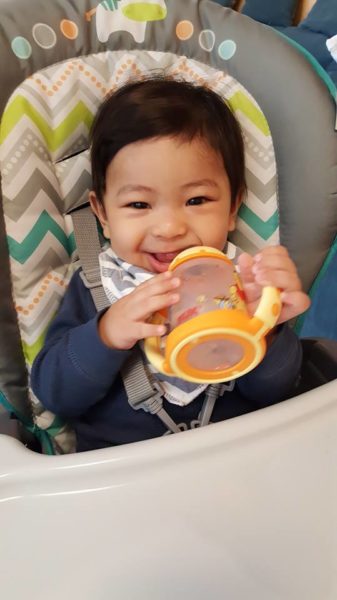 Okay now it's your turn to share your Friday 5! Hope everyone has a great weekend!