Monday, December 3rd, 2018
Catch Up Time!
Shhh…don't tell anyone but I took my brace off for a quick pic. This is me about 4 1/2 weeks after surgery. I'm doing too much because Wizard is has a day off of supervising me, LOL! He's off racing with his friends, and I decided to bake. I've really wanted chocolate (although I wanted chocolate cake–chocolate chunk cookies are a good second choice). Anyway, this is me, and you can see the healing incision. It's not bad.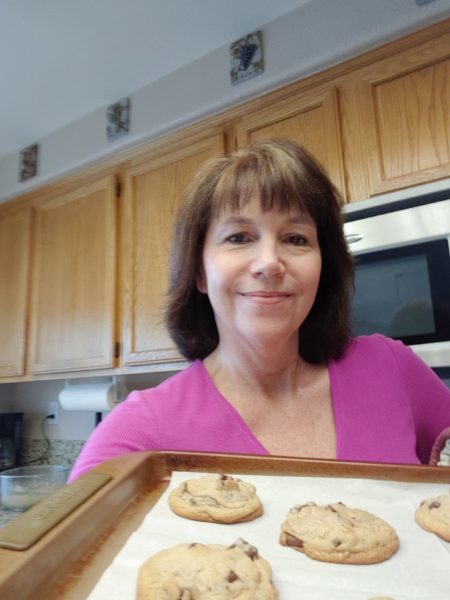 And here I am wearing the brace just to prove I had it on 99% of the time!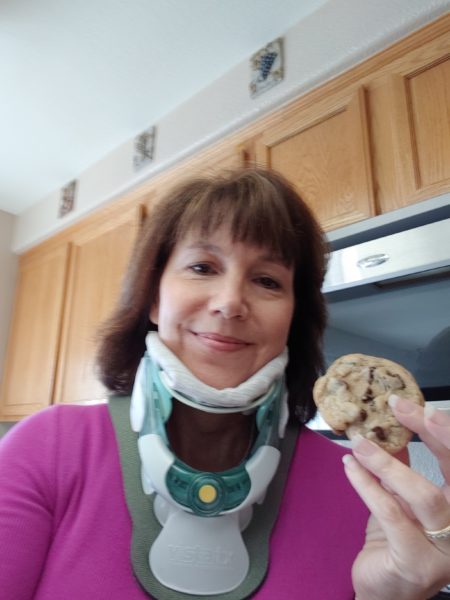 I've been dealing with some typical post-surgical blues, and facing two more months of wearing the brace with fairly significant restrictions. This is normal. As far as the pain I had before surgery, it's better but not gone. Although after doing too much with the cookies, I definitely feel it streaking down my arm, but that could also be residual nerve damage that might heal up in time. We'll see what happens long term.
Around us, life has had some ups and downs. The saddest thing is that, our new daughter-in-law lost her father a few days before Thanksgiving. We are heartbroken for her, and her family, as well as our son. But they are strong, and will get through it one day at a time.
Otherwise, my brother-in-law who had open heart surgery two weeks before my surgery continues to improve at a solid rate. His surgery was BIG, so it takes time. My oldest son and his wife, CPA Boy and Special K's, youngest dog had emergency surgery for burst disc that paralyzed his back legs. They don't know if he'll walk again, but they've put him in a specialised live-in therapy that will give him the best chance.  I really admire their dedication to Max! And we had to evacuate AGAIN, this time because we had a significant rain that could cause mudslides. That was two long days of stress, packing and planning. Then came the moment when Wizard heard the low roar rising in the distance like an approaching airplane. That was the moment when we left. But the good news is that while it was runoff and mudflow coming down–it followed the path the city worked so hard to create away from our neighborhoods. We watched it on the news–so surreal. We are very grateful. Of course, the next rain could have a different outcome, but chances are that we'll be okay.
And Wizard is totally stealing my dog! My Maggie!!! I still can't walk her because I have a ten pound weight limit, and Maggie is 19 pounds. She pulls here and there on the leash, and the doctor felt it was better if I didn't do it. Wizard is LAUGHING HIS BUTT OFF!! He has really taken to walking her!
Okay don't tell Wizard, but part of me is pleased. Maggie is still attached to me, but she's doing better with him now that he walks her. Once I can do it again, we'll figure it out how to share

This is a good problem to have.
Those are just a few of the things that have been pretty nonstop around here.
I did a little work of reading over the book, and it's a mess. That's no surprise to me, I knew it was. It's just frustrating. I'm going to try to put a plan together to clean it up, and figure it out. With the holidays and the fact that I'm not supposed to do too much, I can't make any promises.
Okay so that's my catch up post. Now it's your turn, what's been going on with you?