Monday, December 17th, 2018
Weekend Roundup
It was another weekend without any major disasters, we are on a roll here! So here's a summation:
Wizard's family party was Saturday, and we had a great time. My sister-in-law does this party every year, and she really goes all out. Her house is beautiful, the food is wonderful and it's just nice to go and relax. I really appreciate all the work she puts into it! So a couple notable things happened at the party.
Baby Slayer couldn't be there. He was slightly under the weather, and he totally exhausted his parents. All of them were improving on Sunday. They were missed but that's how it is with kids.
Wizard is sooo busted! I took a few pictures of the party, and in every single one, Wizard is looking at his phone! That's right, the man who claimed for years that people are rude with their smartphones has suddenly morphed into ONE OF THEM now that he has his own smartphone. (Okay, Truth Time: He was showing his family pics of Baby Slayer, and I maybe purposely took pictures of him like that to torment him, but he's still busted because teasing Wizard is fun!) (Oh wait, maybe it's not smart to tease the man who drives me everywhere I want to go???)
During the White Elephant gift game, I got a blanket to keep Maggie warm through the winter. Then my niece STOLE Maggie's blanket for her dog, Brody. Maggie is totally heartbroken. This is Maggie's face when I broke the news to her: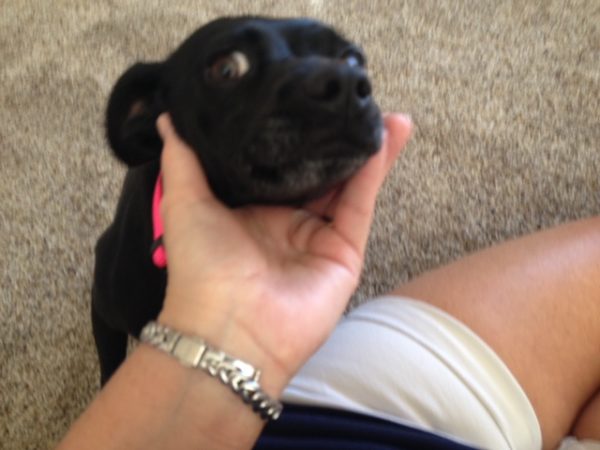 I told her not to cry, maybe Santa will find a way to get her a new blanket

Then on Sunday, Youngest Son (BLB) came over in the afternoon, and Maggie did the wiggle dance of joy for fifteen minutes, totally forgetting about the blanket. Maggie loves company, kids and dogs. She's timid and excited at the same time.  The dog is weird, but what other kind of dog would I get???
Wow Christmas is almost here! I'm not quite done shopping, but we've scaled back some so that helps. And Wizard really is doing all he can which I so appreciate.
How was your weekend? And are you guys ready for the holiday?