Monday, December 31st, 2018
Happy New Year!!
Hi all! It's the final day of 2018, and right here in my arms is one of my biggest joys of the year, Baby Slayer! This is us on Christmas Day: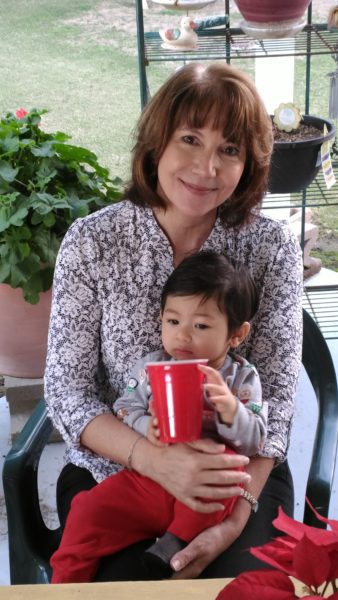 I got special permission from Hover Man aka Wizard to have my brace off for a while as long as I was sitting. Baby Slayer got toys for Christmas, but he wanted to play with his plastic cup

  Another of my biggest joys was my middle son marrying his wife, and giving Wizard and I another beloved daughter-in-law. It's been a great year in that respect!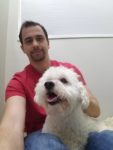 More good news is that Max, CPA's little 3-year-old Maltipoo dog, is coming home today! A week before Thanksgiving two discs in his lower spine burst and he was instantly paralyzed in his back legs. We don't know how it happened, but were told it may be genetic. Emergency surgery and weeks of live-in rehabilitation have been miraculous and he's walking again. It's a new and different walk, but little Max doesn't care. He's all go,go,go! without worrying about how it looks. They came way too close to losing Max, so this is a real joy. And it's a lesson in believing. They believed Max could do this and he did! He still has challenges in front of him, but we're all going to keep believing he can do it! (This picture is CPA boy visiting Max in rehab.).
And you know what? If little Max can do it, so can I! Maybe not at full speed yet, and maybe the process won't look pretty or graceful but I'm gonna be Max. He runs, half dragging his back legs, falls, pops right up and keeps on running.  He doesn't let a disability get in the way of living his life and being happy:-)
And that's what I wish for all of you too–a year of going for your goals with full on joy and not worrying how it looks to others. Be Max and go!
Happy New Year!