Friday, December 28th, 2018
End of the Year Catch Up
It's the last Friday of 2018, how weird is that? Instead of a Friday Five, I'm just going to ramble a bit

We had a really nice Christmas, and it's not over for us yet. We're having another celebration this weekend at Middle Son and his wife's house. It'll be relaxed and fun, and I'm really looking forward to it.
Oh yeah, here's Maggies face when I told her that she wasn't getting any Christmas presents: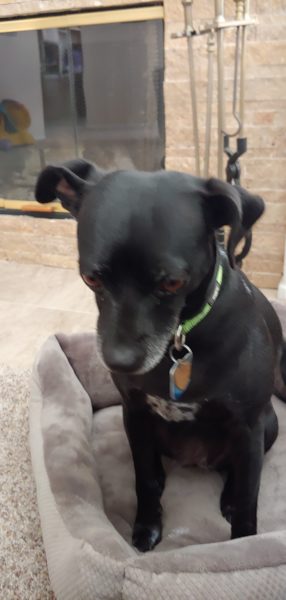 Just kidding–I bought her some treats and put them in a bag with kittens all over it. She was very happy with her present. And she also stole wrapping paper and ran through the house with it, totally proud of herself. Maggie's a really well behaved dog, but it's also nice to see a mischievous streak now and again.
I'm still healing, it's been 8 weeks since my surgery and I'm trying not to lose my mind from being housebound

I walk all the time, and this week, I'm walking Maggie too so that gets me out. But I want my independence back! So yesterday Wizard was going to the track to practice racing, and I told him I was going to run an errand while he was gone. As in I was going to drive myself to the store.
Wizard started firing questions, "Are you sure you can drive? You have to wear your brace. Which store are you going to? When are you going?"
I told him the store I was going to, and added, "It's very close, I'll be careful, but I can do this. I'll go after you leave."
Being an overprotective Alpha Male, he said, "What do you need to buy at that store? I'll take you right now before I go, or I can pick it up on my way home."
I just stared at him in frustration.
"Okay," he relented because, HELLO I wasn't asking permission, I was informing him as a courtesy. Before he left, he said, "Please, just be careful."
I went to the store, found what I needed and got home fine.  And I told Wizard exactly that when he got home from racing. He seemed to accept that I can start doing some things like drive to the store.
Then last night, Wirard said, "Wake me at six in the morning."
"Why?" I'm always awake, so him asking me to wake him isn't unusual, but I knew where this was going with this.
He said, "I'm taking you to get your haircut in the morning. I need to got to Walmart anyway."
Yeah…apparently I only won a small skirmish in the battle for freedom, LOL! I gave in somewhat gracefully because he's not wrong–I'm not ready for a lot of driving yet. And I'm very grateful to have a partner who is trying so hard to help me out. He's been my rock through all this, and he never complains.
In the new year, I have to tackle a health insurance change, but I'll be with all my same doctors. That's going to take some time, and the second week in January I'm on call for Jury Duty. But around that–I'm going back to writing. I'm tossing out what I don't like in the book, taking a fresh approach to get Savaged Devotion done. I'll have to limit my computer time but I know I can do this!
So that's my catch up. Now it's your turn!