Monday, January 28th, 2019
Weekend Roundup
Freedom from the hard brace is awesome

Yeah, I'm doing a lot, and Sunday evening, I'm super tired, but so happy to be able to do things.
–I wrote a quick scene that I'll refine and finish today.  I still keep my work hours limited, and I'm trying to make more effective use of my time at the computer. That's a work in progress!
–We're looking into options for our vacation.
–I made oatmeal chocolate chip cookies. Now the dumb thing here is that I wouldn't stop for one minute to go get Wizard to have him stir in the oats and chips for me. Of all the things I've done in the last week…that's the one that made me sore, LOL! However it won't damage my neck, so ***shrug***, not really a big deal.
–I'm working on stretches that don't put too much pressure on my neck. While they are making me sore in the short-term, they will be a big help long-term. I'm doing these before I go back to the gym (for light, doctor approved, workouts).
–I held Baby Slayer for hours yesterday and everyone is relaxing around me. Again, I'm careful. For instance, I won't carry him down their steep stairs yet, I just hand him off to his mom.  Wizard was over there helping CPA Boy trim back trees, weed and do some spring yard cleaning that was a big job. Wizard was really tired, so I drove home. That's a huge win for me! It's a long drive, and even over-protective Wizard was comfortable. Plus he got to see how I'm compensating. I'd lost some of my ability to turn my neck before my surgery, so the limitations from my fusion now isn't really a big adjustment.
–I'm walking Maggie all over. Here's a picture of Maggie when she hears the girls across the street. Maggie loves them. When she sits like this, she wants out. Of course, sometimes, she's doomed to disappointment, but she still tries just in case I'll take her out to say hi to them.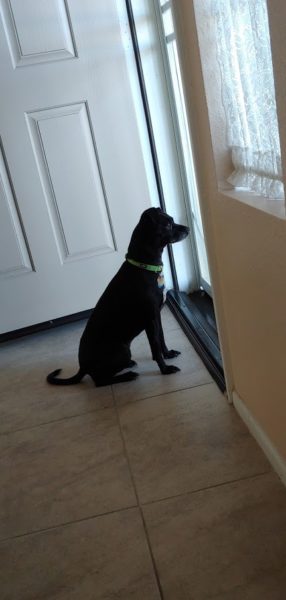 –Wizard told me yesterday I'm doing great. How is it that after all these years of marriage, his complements still make me happy? I'm really glad he's relaxing now. He did so much for me for three long months.
Obviously, I'm feeling the high of this step of recovery. I'm very aware of the road ahead, but right now, I'm just happy to be this far along. Today I'm going to dial down the physical activity to give my muscles a break

So that was my weekend, how was yours?