Monday, February 4th, 2019
Weekend Roundup
The weekend was ok. I spent time on words…I'm right back into my pattern of writing, deleting, cutting, pasting and generally driving myself crazy. No news there, LOL

  Saturday we had heavy rains and winds, and Wizard went racing with Middle Son to an indoor track. I was mildly concerned about him driving home because he has to travel four different freeways and I knew there'd be a fair amount of traffic. Turns out, I was concerned about the wrong family member.
They are fine, but CPA Boy, Special K and Baby Slayer were hit and spun out in heavy rain on the freeway Saturday evening, Again they are all okay, and watching out for any delayed problems like whiplash. Thankfully Baby Slayer was in his rear-facing car seat, and just a little scared. I saw him Sunday, and he was happy and playing as usual. Their car, however, is pretty banged up and will go into the dealer today for some bodywork. From what they've pieced together, a young man driving a brand new car spun out in the heavy rain, hit them and they did a 360 before both cars came to a stop. Thankfully no other cars hit them after that, although they did back up traffic until the police could get there to safely move the cars out the lanes of traffic. In that kind of rain, and at night, it could have been MUCH worse, so we're all grateful.
And a little extra fun (NOT), I got an email threat to use my webcam to distribute porn of me if I don't pay up in Bitcoin. Um…good luck with that. **Delete**  Garbage like this, and all the other craptastic scams run by trolls that need to be squeezed and popped like puss-filled boils, are why I need a glass of wine by the end of the day.
To end on a more cheerful note, here's me and and Baby Slayer from yesterday. Baby Slayer has a super cool play space that he lurch-walks across, back and forth, like Maggie when she gets the crazy zoomies. It's pretty funny since he hasn't quite mastered walking, so he just pitches himself forward and toddle-runs. Somehow it usually works for him. Other times, he faceplants but gets right back up and does it again. In this photo, we're playing with his dump truck.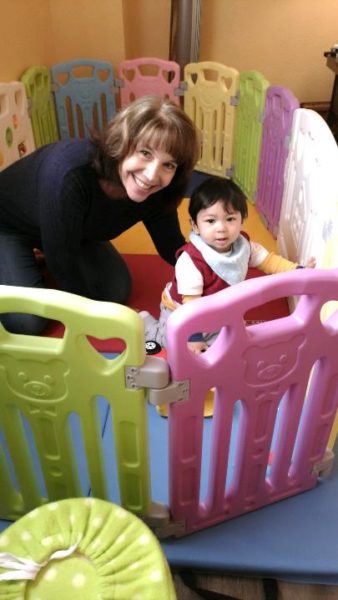 That's my weekend, how was yours?