Monday, March 11th, 2019
Weekend Roundup
Poppy Mania is snarling traffic in our city! I know they're pretty, and hikers love it. But do folks have to stop on freeway and off ramps clogging up traffic and cause hazards? Or park in the middle of the street? Or let theirs kids or dogs wander on the roads unsupervised while mom or dad post to Facebook or whatever??? Just asking… Honestly, I appreciate the rare beauty, I'd just like folks to use some common sense.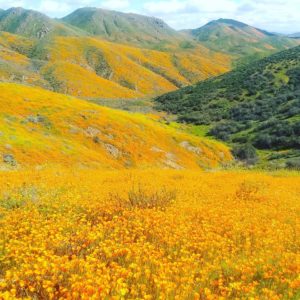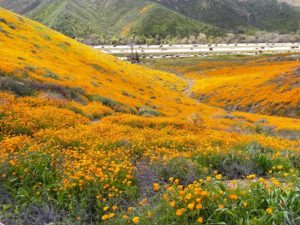 Friday: I finally got to see my sister Biker Witch! We had lunch and walked around some shops, then had dessert. Visiting with my sister always makes me happy.
Friday night, I was pretty miserable with the stupid cold, so Wizard talked me into taking some cough and cold syrup with antihistamine in it. Sigh…poor Wizard, I scared the hell out of him by screaming in the dead of night. I don't even remember it, but Wizard said I was having a nightmare and he got me to calm down. I believe him, it's not the first time I've done it, I just usually wake up and recall it the next day. It freaks me out that I don't remember it this time. So…yeah…no more antihistamines at night for me.
Today I'm feeling much better.
CPA Boy and Special K's dog little dog, Miracle Max, had to have a second emergency surgery for another ruptured disc in his back. He pulled through the first surgery for two ruptured discs last November, and with some specialized physical therapy, he regained some use of his back legs. This time, the odds are not that great, and yet, when Special K went to visit him yesterday, he had some feeling in his back paws less than 48 hours after the second surgery! He's truly Miracle Max, and we're all pulling for him that he can resume a happy quality of life. He sure has owners who love him and are willing to fight to give him a chance.
I struggled with my book, and obviously cold meds are not my friend, LOL, but yesterday, I think I found a scene that will turn the book in the direction it needs to go. This has been my problem turning point that trips me up every time I try to rewrite the book, so this is significant! I'll work on that more today.
I'm on call for jury duty all week, but didn't have to go in today.
And here's a pic of my grandson, Turbo. Apparently his dad told him he can't eat dog food, and Turbo is arguing with him. I think Turbo is winning the debate, LOL! He's about a week shy of his first birthday and getting so big…and opinionated!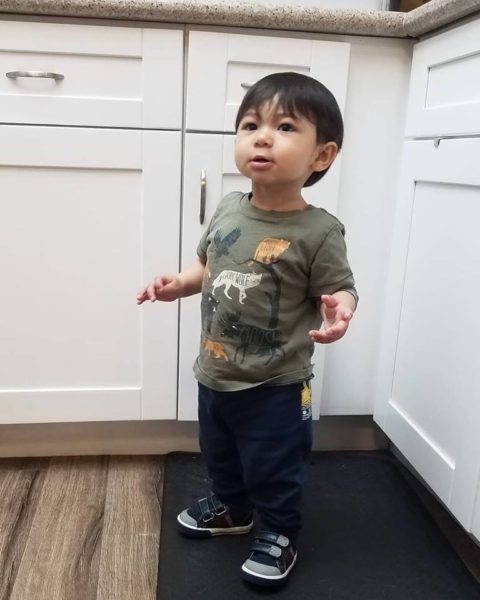 So that was some of my weekend, how was yours?