Wednesday, March 27th, 2019
Wednesday Worthy
Today we have here a hunk on vacation at the seaside. I gotta say though, I'm a little worried about him lounging on that wood bench because…splinters!!
Huh, now that I've thought of splinters, I'm thinking about Splinter from the cartoon Teenage Mutant Ninja Turtles. That makes me think of the time CPA Boy was about five or six. We were getting in the car after soccer, and CPA Boy dropped his handheld Teenage Mutant Ninja Turtle game device down the storm drain.
There were TEARS!!! Major TEARS. His grandma had given him that toy, and he was heartbroken.
Wizard jumped into hero mode, removed the cover, and went down into the storm drain to recover the toy game.
CPA boy was awed! But Wizard wasn't done, he then wove a ridiculous story about how Splinter was down there and had caught the device, thereby saving it from total destruction, and then waited for Wizard to come retrieve it.
CPA Boy and his two younger brothers totally believed this story!
But this guy here? He doesn't look anything like that mutant rat mentor/instructor from the cartoon.  And I'm still worried he's going to get splinters from that bench. Anyhow, splinters or not, he's our Wednesday Worthy hunk for today.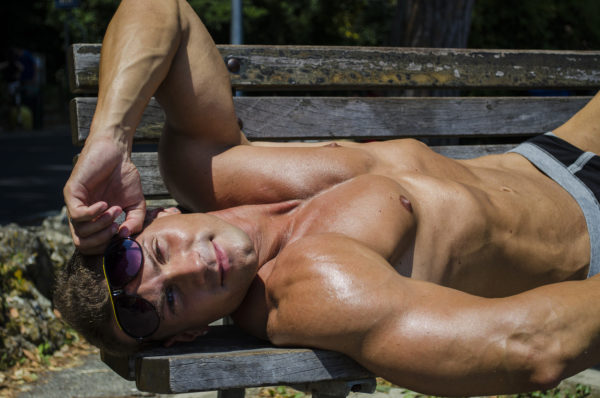 You know the question–is he worthy?