Monday, April 1st, 2019
Weekend Roundup
Who let April in??? I wasn't done with March!!! LOL!
Saturday, the wedding shower for my nephew's fiance was beautiful and seeing everyone was fun! It was long drive, over a 100 miles each way. So I drove to Special K's (my daughter in law) house, and she drove from there. That helped! Plus I love spending time with Special K :-). It all went well until I got about 15 miles from home, and hit a dead stop from an accident on the freeway that required life flight helicopters to land on the highway. The whole thing was much worse due to the Poppy Mania traffic that has already caused road closures to control that traffic flow, which complicated the process of trying to route traffic around the accident.  So the last 15 miles of the over 200 mile round trip was a brutal crawl. Between that, all the sitting, and twisting to talk or see at the shower activities, I'm a little sore but that will get better in a day or two.
Sunday, the swimsuit I ordered came in. I drove to the store, tried on the suit and promptly returned it. FAIL!! I may just wear a one-piece I already own with board shorts in Hawaii. Either way, I refuse to stress over how I look.
I am stressing over everything else, including why 4 out of 16 files my formatter uploaded into our shared cloud service won't update. Weird & frustrating. I've spent way too much time fighting with this for an update that is just correcting 2 minor typos. I finally walked away and poured a glass of wine. I suspect by today (Monday morning) it will sort itself out and update, or I'll find a solution.
Can the Poppy Mania be over with now????? Okay being serious now: The poppies seem to be fading, and we have a hot week coming up that may hasten their demise. They aren't as vivid now as they were two weeks ago when I snapped from the freeway: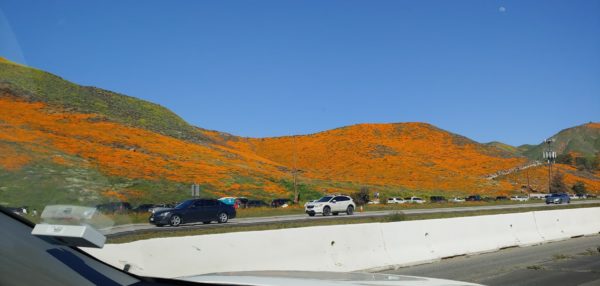 I appreciate the beauty as much as anyone, but I'm ready to go back to being the town no one wants to visit

So that was my weekend, how was yours?