Monday, May 6th, 2019
Weekend Roundup
Before I get started, I have an important Blog Schedule Note: I won't be posting for a week, and will return Wednesday, May 15th. 
Turbo Time was awesome on Saturday! Now that tax season is over, Turbo's dad has more time, and they all hung out for the entire day. We went to breakfast, then played and played and played. When Turbo's parents when to pick up lunch, Turbo wore out and fell asleep on me.
Being a Grandma is amazing

So here's Turbo looking at his mom when she suggested Turbo NOT drink Grandpa's tea. She warned Grandpa Wizard that Turbo slobbers.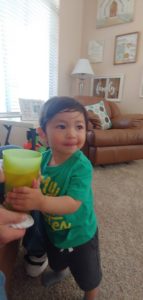 Everyone knows that Grandpa Wizard is squeamish. He'll barely eat after me! But here's how much he adores Turbo: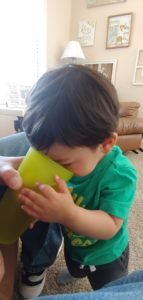 LOLOL!! Trust me, Turbo can do no wrong.
Maggie and Turbo are doing great together too. Turbo has a super cool red car that we can push him in like a stroller. We took him out for a walk in it, and Maggie trotted along beside him. Here is Maggie after Turbo left: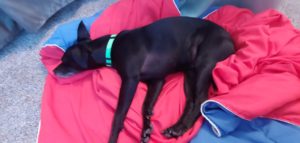 She's on an old ugly quilt that she loves to burrow in when I watch TV upstairs. She was totally zonked out. Normally she creates a really nice "bed" there but she was just too tired to do more than splat down and snore.
Sunday I had a nail appointment that didn't work out. I ended up going to another place and spent two hours getting a manicure and pedicure. I like my baby blue nails, but I'm not a fan of sitting like that. We'll see if I keep the gel nails and just go back to quick pedicures for summer because shoes are optional in my world

And I sent a chunk of my book off to a friend to see if she can wade through it to help me out. I only sent her 250 out of 568 pages. Some of the scenes after the 250 page mark have potential, and other stuff is just Word Soup that has no nutritional value. So…yeah…we won't talk about that. Sigh.
That was my weekend, how was yours?