Monday, June 17th, 2019
Weekend Roundup
Seriously Maggie???
After bragging about Maggie's perfect manners at my mother in law's house last week, we took her to CPA Boy and Special K's new house. They are actually moving in mid-week, but we were doing things like unpacking Amazon deliveries, and assembling a new desk, etc. It's an older house, so they it freshly painted and all new floors, including some carpet in a few rooms.
Special K said, "Don't worry about Maggie, all I care about is that she doesn't pee on the new carpet."
Me, "Maggie doesn't do that."
Yeah, you know where this is going, right?
SHE DID! MAGGIE PEED ON THEIR BRAND NEW CARPET.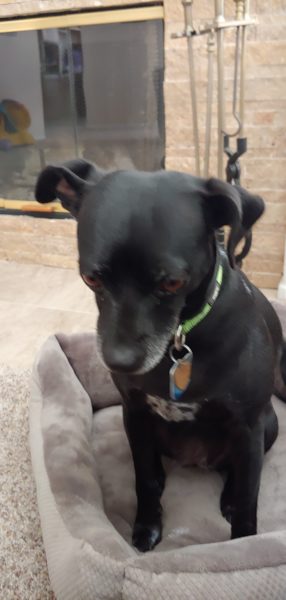 It was just a tiny bit of pee, but still, I was mortified. I got it cleaned up right away. I suspect she tried to tell me she had to go outside, but between the unpacking new dishes and Turbo, I didn't understand her. But I should have paid more attention!
Special K was incredibly nice about it (she's amazing and I love her!), while I was freaking out. I threatened to take Maggie back to the animal shelter, but no one believed me, including Maggie, because I love her more than all the chocolate in the universe.
Otherwise, it was a really good, if tiring, weekend. Father's Day was quiet but nice.  And I finally got part one of the scene I was struggling with written, with an idea how to do part two.
So that was our weekend, how was yours? Hope all the dads out there had a great Father's Day!