Monday, July 8th, 2019
Weekend Roundup
This weekend, we worked on a project with Youngest Son (BLB) and his fiance. I'm excited for them, but until that's all finalized, I can't say more

We also bought a new dishwasher. Not really exciting, just necessary. My old dishwasher has been great, it's just wearing out from a lot of use. We should find out today when the new one will be installed. Fingers crossed nothing goes wrong installing it.
On Saturday, Wizard decided to clean the downstairs windows while I was gone doing errands. He soon realized our screens are old, so he rescreened all the windows. We have a lot of windows, so that was a ton of work. But Wizard being Wizard, kept going over two days until he got them all finished. I sure appreciate it! We'll wash the upstairs windows together, probably today, and that project will be checked off as done.
As for me, I got an non-writing related idea. Remember the TV stand I was excited about? Well we didn't put the doors on, because the satellite receiver and other equipment tends to get hot. But the doors are pretty–a distressed gray wood with glass inserts. So I decided to repurpose those into frames, and that set off a round of going to stores to figure out how I wanted to hang them. I decided to use pictures from our Hawaii trip, which meant I had to search through 100 pictures in our digital files and get them printed. That turned out to be a comedy of stupid errors (mostly mine) that resulted in me having to have some of the pictures reprinted twice. But that's done, and here's how it turned out (this is a small wall, and you can see part of my office on the right of it):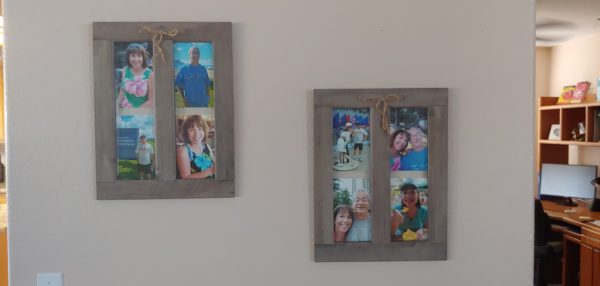 Anyhow, this little idea somehow turned in to A Project. Or possibly a way to avoid writing, LOL
We also had the 7.1 earthquake roughly 100 miles away, and we definitely felt it here. This far out from the epicenter felt like a slow roll similar to being on a boat. While there's significant damage to area around the epicenter, the injuries are minor and no known deaths. We were incredibly fortunate. Were that size and intensity of an earthquake to happen in one of the more densely populated areas of Southern California, we likely would have had severe injuries and fatalities.
So that was most of my weekend, how was yours?