Monday, July 29th, 2019
Weekend Roundup
It was sizzling hot, but a good weekend otherwise.
Saturday, Wizard and I finished painting the two sets of frames and hung them on either side of the picture of our grandson, Turbo. I couldn't get a good shot without the glare, sorry! But the pictures are silly ones we took at the photo booth at Middle Son and his wife's wedding. We were clearly having a blast: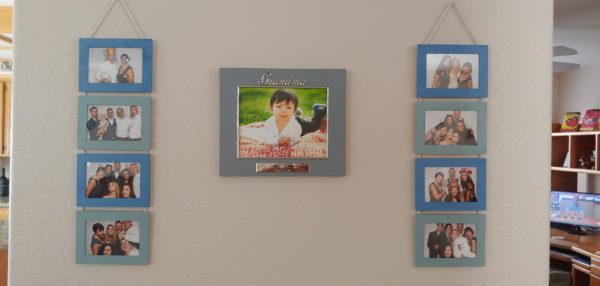 The rest of the day was busy with life type of things. We've also went to a couple open houses in our target area, however we're just exploring and researching possibilities. But honestly, we've freshened up our home, and are enjoying it.  Plus are we really ready to give up our pool?
Speaking of the pool, yesterday while Wizard was off with Middle Son, I decided to go in the pool. I didn't want to get my hair wet, so I put it up in a clip, then got into the water and hopped on the raft like I've done hundreds times.
Of course I fell off. Yep, I soaked about half my hair. Bleh.
The only one who saw me, though, was Maggie. I might have tamed my hair enough to hide my clumsiness, except that right after I came in from the pool, I got the bright idea of cleaning the bathrooms in the hottest part of the day. Even with the A/C going, the body heat I was generating, plus hot water running in the shower to clean it, equaled MASSIVELY FRIZZY HAIR.
Once Wizard got home it only took him a few minutes to realize I'd been in the pool. And then I ultimately confessed I fell off the raft because neither one of us is good at keeping secrets from the other. My mishap cracked him up.  Especially since he falls off all the time when he tries to get on the rafts, and I tease him about it.
Karma obviously dunked me

Today, I'm setting goals and kicking my butt into writing mode. How was your weekend?