Wednesday, August 7th, 2019
Maggie's Day with Turbo!
Hi guys, it's me, Maggie! For fun I thought I'd show you a pic of me after I spent the day playing with one of my bestest friends ever, Turbo (mom's grandson).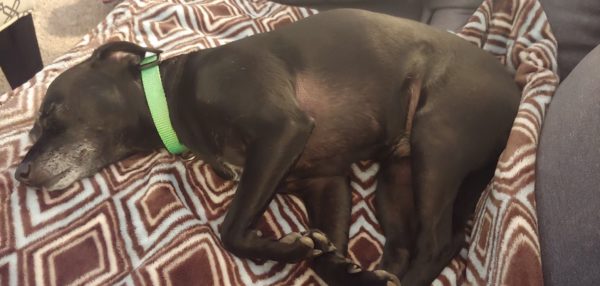 For reals, this is me after Turbo left. Me and Turbo run and play, and plus…shhhh…don't tell my mom, but he feeds me food when mom isn't looking.
My stupid brother, Middle Son, told on me once though

I heard him say, "Mom, you better make Maggie come outside with us, Turbo is feeding her." Brothers, am I right? I mean Middle Son brother is usually all cool, with lots of pets and gives me treats, but that tattling to mom totally sucks.
But Turbo never tattles! He sure does giggle though, and that makes my tail all happy! I can't even stop my tail from all the joyful wagging.
The only time I worried a little bit was when they took my bestest friend ever, Turbo, in that big water hole. But don't worry, I was really brave and went all the way to the edge where I saw my other brother, Oldest Son, holding onto Turbo real good. Also mom and my last brother (I gots a lot of brothers!) Youngest Son held Turbo too, but they were also super careful.
So I didn't worry anymore.
On Monday, I wasn't very hungry, and I mostly lazed around. Mom and Wizard Dad said it was because I was hung over from all the fun with Turbo. But I didn't care, it was worth it!
Gosh, I sure hope Turbo comes over again soon!
Do any of you have special friends who make you so tired you don't feel as good as usual even the next day on account of all the fun you have together?
P.S., Mom said she's sorry she doesn't have a pic of me and Turbo from Sunday. She said we move too fast for her to snap a pic–whatever that means. Probably she just forgot on account of it was her birthday and she was having fun too