Wednesday, October 9th, 2019
Maggie Swears She's Just Playing With Her Friends
Hi guys, it's me, Maggie.
I'm blogger-talkin' from the outside place where the trashcans live. Do you see me?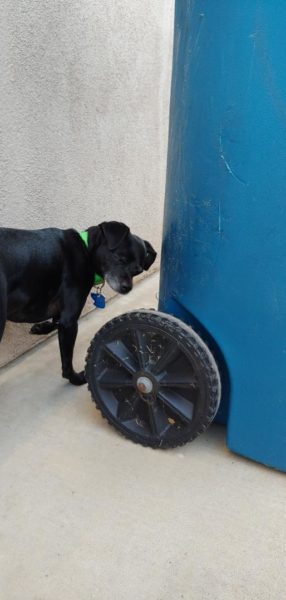 So, I've been standing here now for 45 minutes. I know that cuz my mom came outside and said, "Maggie, you've been standing here for 45 minutes."
And I'm like, "Yeah, mom, I know! On account of I'm waiting for you or Wizard-dad to move the trashcan! There's a lizard hiding under there and I gotta find him! It's a game!"
My mom got a funny look on her face and went in the house.  Then I heard her and Wizard-dad talking, and saying words like: That dog is a serial killer of lizards. We need an intervention.
Sigh.
I am not a serial killer–whatever that is. I'm a nice girl, a sweet dog who loves, LOVES, playing hide and seek with my friends, allll the lizards. When they run or hide, I seek. I'm getting really good too! I tag them with my teeth or claws, and they stop running!
But I'm not a serial lizard killer. Cuz that sounds kind of mean, and I'm not mean. I know that for sure because I went to my Dr. Veterinarian today and she pronounced me, "Healthy and sweet".  All medically official with her Dr. title and everything! And she gave me treats which proves I'm a good girl, am I right? I love Dr. Veterinarian!
Also, what's an intervention? Maybe my mom and Wizard-dad need one?
Anyhow, that's what I'm doing today. What are you all doing?