Monday, February 24th, 2020
Weekend Roundup
The highlight of my weekend was seeing Turbo–of course! He's so eager to see us now, but the true shining moment for me was when I hugged him goodbye: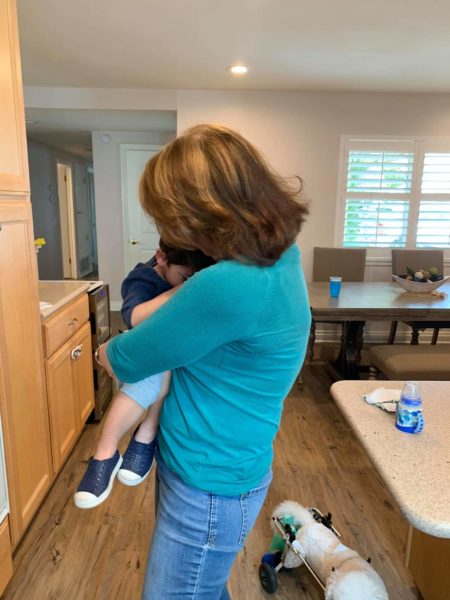 It looks awkward because he refused to let me go. I tried to set him down a couple of times, but he'd developed a serious case of spaghetti legs. Then he got a fist full of my shirt, and held on. He didn't cry, he just didn't want to let go of Grandma

It was sooo cute! He's 23 months old and already knows he has Grandma wrapped around his finger.
When he's not being a drama boy, his motto in life is pretty much: "Why walk when you can run!" He's a fountain of energy!
Oh, and if you look down and to the right in that picture, you'll see Max, the youngest of CPA Boy and Special K's dogs. Max has had two major back surgeries and is partially paralyzed, which is why he's on wheels. Max zooms around just fine on his wheels all day long. The only time he gets cranky is when they take his wheels off and make him rest, LOL!
Sunday, I did two things. First, I've met my goal of  doing stretch and strengthening exercises every morning when I get up at 5:30 for 6 weeks, so I bought myself another pair of exercise pants for going to the gym. It doesn't sound exciting, but that was what I wanted, and it helps me stay motivated. I've been pretty committed to walking Maggie (often twice a day), going to the gym 2 to 3 times a week if I can, and doing these morning exercises. However, because I'm not long a youngin', I've developed some soreness in my hip that I'll have to work around that this week.
The second thing I did is made some progress on the book. I just keep telling myself to let Justice and Liza tell their story, and I really REALLY want to do this. It's the hill I have to climb to get to the other side and recapture my writing mojo. I just love both this story, and writing, too much to stop. I have to mention that the exercise discipline is beginning to spill over into writing discipline. I knew it would, but I can't tell you exactly why. My best guess is that physical exercise rests my brain from the tinnitus that constantly rings in my head when I stop. I really don't hear it when I'm moving enough. In any ways, it doesn't matter why it works as long as it helps!
So that was my weekend, how was yours? As always, I really do want to know!